Book Review: The Kitchen Daughter by Jael McHenry
Normal.
What does normal even mean?
I have often wondered this in my life, and I admit to spending time worrying that I don't fit in with the "normal" people and trying to figure out how I can become more normal. But, I've come to realize that what is normal for one person may not be normal for another, but it's all good. How boring life would be if we all fit into the same mold of normal!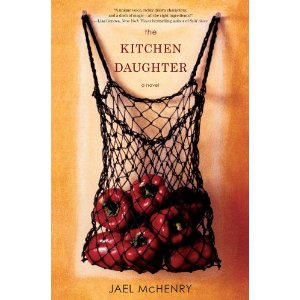 The Kitchen Daughter, by Jael McHenry explores this notion of normalcy and its elusiveness. Ginny, undiagnosed with Asperger's Syndrome, feels she is normal. When people ask her what is wrong with her, or what she has, she always answers, "a personality." Personally, I loved that.
I have not given much thought to what it might be like to be on the autism spectrum, but McHenry's brilliant narration allowed me to be inside Ginny's head and get a taste for how it might feel to have Asperger's. Ginny's character was incredibly endearing, and has taken a firm place in my list of favorite literary characters.
When Ginny's (overprotective) parents are both killed in an accident, Ginny is left alone to deal with her younger sister, her emotions and all the many shades of normal. When Ginny's late grandmother's ghost appears in her kitchen during the wake because Ginny has made her recipe for bread soup, she learns it is normal for her to see ghosts when she cooks their recipes.
And thus begin her adventures in this amazing debut novel written by food blogger Jael McHenry. It is at once a culinary novel (recipes included!), a mystery novel (ghosts included!) and one that has the potential to change your thinking, and possibly even your life, as you read about Ginny's quest to find out about herself, what normal means to her and how to finally live life and accept herself for who she is.
When Lisa from TLC Booktours first emailed me about reading this novel, she mentioned that the publisher (Simon and Schuster) was very excited about this book, and that it was a favorite around the office. I can definitely see why. In fact, when I added it to Goodreads, I noticed that it already has a 4.17 star average, which on that website is excellent. I predict that this book will be making a big splash this year, and I highly recommend reading it.
****************
I received this book from the publisher via TLC Booktours.
This post contains affiliate links.