Book Review: Square Peg by L. Todd Rose
I participate in a Facebook group where the discussion centers largely around learning differences in students, and ideas for helping those students receive an education that works for them. The group was born when a friend of mine met a lot of resistance from both her child's teacher and the school/school district in trying to get her daughter help. She also met plenty of resistance from the educational system in trying to figure out why she was struggling in the first place.
I've learned a lot about 2E children (2E=Twice Exceptional, meaning simultaneously gifted and learning disabled) from that group and from doing my own research. I have often suspected that my oldest daughter has a minor learning disability, even while being extraordinarily gifted in some areas. We went through an especially difficult period with her in the fourth grade, and, with a lot of work on our part, she has risen above many of the difficulties she encountered then. She's a determined—and very smart—child who now makes As and Bs, and has a goal to go to BYU. She just has to work really hard for those grades in certain subjects (cough cough math cough cough).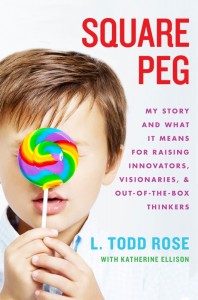 2023 update: My oldest daughter is now in her senior year at BYU-Idaho. She was diagnosed with ASD (Autism Spectrum Disorder) after her Freshman year of college. This confirmed so many of my suspicions from when she was younger and I feel somewhat guilty for not pushing it harder.
Anyway, being in this Facebook group has really opened my eyes to the struggles many of our students face in the classroom today. It's truly amazing how the system can fail so many of our children, and yet still be good-intentioned.
Square Peg – My Story and What It Means for Raising Innovators, Visionaries and Out-of-the-Box Thinkers, by L. Todd Rose is a great book with great ideas for our modern classrooms. Todd Rose was himself a 2E child. And the system failed him. He tells the story of how he was given a poetry assignment, and because he actually enjoyed writing poetry, he did it. His teacher failed him, thinking he had cheated, since Todd didn't try on any assignments, as a general rule. Even when Todd's mother pled his case to the teacher, the teacher held firm to the failed grade.
This story made me so angry! And even though that was probably 20-30 years ago, things like this still happen quite commonly in our educational system.
Rose's book is simultaneously a memoir and a textbook which teaches parents and teachers how to cater to individual learning styles. He has great ideas for using all of the technology available today to help the students that struggle in a traditional learning environment. I liked how he had 'Big Ideas' and 'Action Items' after every chapter. I liked even more that the action items often included things like "give your child a hug!" Rose, who was diagnosed with ADHD as a youth and consequently dropped out of high school with a 0.9 GPA, is now a faculty member of the Harvard School of Education. His story is inspiring, and his ideas for our children even more so.
I highly recommend reading this book if you are looking for ways to help a child who isn't flourishing in a traditional school setting. I would also recommend it to parents of children who have been diagnosed with ADHD, as a big part of the book centers on that particular condition.
*******************
I was given a copy of the book by the publisher via TLC Book Tours.
This post contains affiliate links.