Without further ado, the first set of NYC pics
This post is dedicated to my mom for allowing it to even exist. Thanks mom, for a wonderful 33rd birthday spent with you in the Big Apple! (Picture taken in the Chicago airport during our unexpectedly long layover.)

Although we arrived on Tuesday, we were nearly 4 hours later than we had planned, so we just went to our hotel and crashed after eating some gyros bought at a street vendor around midnight.
We slept through a doozy of a storm which shut down the subway system entirely, jam packed the buses and taxis and even caused a tornado in Brooklyn! So, we stayed close to our hotel on Wednesday and went to the MOMA (Museum of Modern Art), after a ginormous breakfast at a health food cafe that Pavarotti has frequented. Then we walked down to the theater district for a matinee of Wicked. After the show, we ate at TGIFridays and then just walked around looking at the city for a bit. We ended up back at the hotel early and ordered a pay per view movie and went to bed.
And here are some illustrative pictures:
View from the Museum of Modern Art, the stair step style building is Trump Tower.

Radio City Music Hall….just a couple streets down from our hotel.

Walking the streets of Manhattan, on the way to the theater district:

Mom outside the Gershwin theater where Wicked is showing. Totally rocked, in case you didn't know.

Rockefeller Center, very close to our hotel. I'd love to see it at Christmastime, wouldn't you?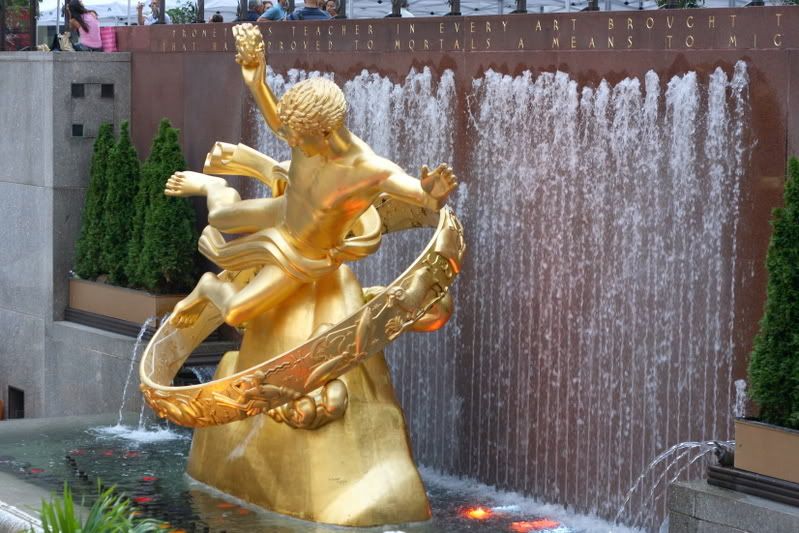 Walking down Broadway:
And that's all for now. I might even post again before this night is over, so keep an eye out.