Young Women Poem for Temple Envelopes
In this post from 2010, I talked about making temple envelopes for my young women. It was for a lesson on temple preparation. I found a poem online somewhere and attached it to the envelopes.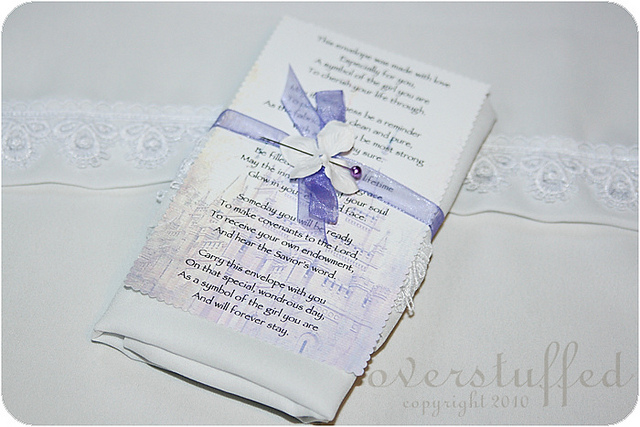 I had a reader email me today about what the poem was, because you can't see the entire thing in the photo. Unfortunately, after searching my whole computer, I couldn't find it. I had a different computer then, and though I transferred most files, I think that one didn't make the cut. I Googled my little heart out, too, and couldn't find it anywhere. I must have magically found it before, because I don't know where it came from!
I had no idea how I was going to get the text since my only young woman at the time is now serving a mission (yay her!). Then I remembered that I had made two envelopes, because a visitor was in our branch that day. Thankfully, it's a visitor that comes often enough that I know her mom and tracked her down on Facebook.
And guess what? She still had the poem! She graciously sent it to me, and now I am putting it here so I don't lose it again. Unfortunately, I don't know who the original author is, and it is definitely not me. (If you happen to know who wrote this poem, please tell me! I'd love to be able to give them attribution.)
This envelope was made with love
Especially for you,
A symbol of the girl you are
To cherish your life through.
May its whiteness be a reminder
To please stay clean and pure,
As the fabric, may you be most strong
With a testimony sure.
As the lace, may all your lifetime
Be filled with charm and grace.
May the inner beauty of your soul
Glow in your eyes and face.

Someday you will be ready
To make covenants to the Lord,
To receive your own endowment,
And hear the Savior's word.

Carry this envelope with you
On that special, wondrous day,
As a symbol of the girl you are,
And will forever stay.
The envelopes themselves were pretty easy to make. I just used my own as a template. Perhaps soon I'll make another one and post a more in-depth tutorial here.
The reader who emailed me said she planned on handing out temple envelopes to her YW who were graduating, which is another great idea. I still use the envelope I received from my YW leaders during a temple preparation lesson. It means a lot to me, and even though I've since been given another (possibly nicer) one, I haven't switched them out.
You might also like: