Four Ideas for Summer Chores
It's true. I've tried several different reward systems and gimmicks to get my girls to do their chores. What I've learned is that most of them work for a little while, and then the kids either get bored with it, or I am not consistent enough with using the system and it sort of falls apart.
I find that summer is a great time to introduce a new way to do chores, and I think that changing things up a little bit makes the children more responsive. And sometimes things work better for younger kids than they do for older ones, and vice versa. It's all about finding what works for your kids right now, and not being afraid to make changes and improvements when things stop working well. The best chore system is the one that is working now.
Here are four things that I have tried at various times in my parenting, and all worked really well.
Four Ideas for Summer Chores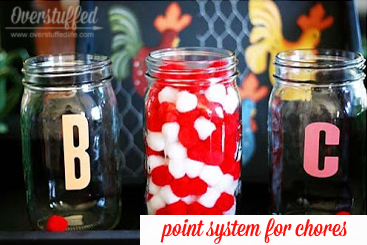 This is the first chore system I ever used that was more elaborate than a sticker chart. At the time, my older daughters were ages 5 and 7 (the youngest was 2 and was not included in this system). I think this is a great one for younger kids as it not only emphasizes doing work, but the rewards are also tied to their behavior.
I used jars filled with pompoms to count the points. They earned points by doing both required and optional chores, they lost points through negative behavior, and they could purchase either activities or items with earned points. (If I were to do it again, I would probably have them earn extra points through positive behavior as well.) You can read more about it HERE, there is also a printable there of exactly which criteria I used for chores, behavior, and rewards.
Each girl got a bucket with her name on it, plus I made a chore bucket. I wrote out as many chores as I could think of that would need to be done on a weekly-ish basis and then put those chores on the sticks. They were things like watering plants, mopping floors, or cleaning baseboards. Every morning, each girl would draw two sticks and do those jobs on top of cleaning their rooms and cleaning the playroom together.
The buckets were easy to make, I purchased small galvanized buckets similar to these, then painted them with a square of chalkboard paint. I figure they can be reused for many things by simply changing the chalk-written label.
For every chore they completed, they earned American Girl credits towards our vacation to Chicago that summer, where we visited American Girl Place for the very first time. They were so excited about that, and it was a huge motivator. Before we left on our vacation, they turned in their American Girl credits for cash to spend at the store (or anywhere in Chicago, but let's face it, they all bought American Girl stuff with them). If you have a family vacation coming up, having Disney credits or vacation points or whatever you want to call them is a wonderful way to get them excited about working. My girls didn't miss a single chore before vacation. After vacation, when the promise of an American Girl wonderland was no longer on the table, they weren't quite as motivated to get them done, even though we had other rewards in place.
If I were to do this system again, I would add more daily-type chores into the buckets. Let's just say I had super clean baseboards and floors that summer, but more obvious jobs were sometimes neglected. You can read more about it HERE, plus find out about the summer reading and the bored bucket that was also instituted that summer.
Want to make a summer bored bucket? Bored Bucket Printables
As the girls get older, I find that I want them to be able to do housework without much help from me, but they sometimes don't know exactly how to do the job right. I instituted the idea of clipboards with detailed instructions for each room they were to clean because I was tired of going to check on their work and having to point out all of the things that were left undone.
I have been accused of micromanaging my children because of this particular system, but it's actually extremely hands-off. They take their list, they do the work, and I rarely have to point out anything that was missed anymore because they simply don't miss anything! And we don't use these charts very often at this point because they all have most of the rooms in the house down. A clean house is hugely important to me, and I want my girls to know how to clean things properly so that they will know when they leave my home. If that is micromanaging them, then so be it.
In this system, each girl has a clipboard (which I decorated with mod podge and patterned paper). I gave them each one room in the house to clean each day, plus a smaller paper with a few extra easy chores on it. You can read more about that summer HERE, including summer reading and how I started dealing with the snack situation.
This is the system I am currently using. This summer I will probably add a few more requirements (the kids have more time to help around the house during the summer than they do during the school year), but we will keep the same basic system.
This is much less gimmicky than past systems, but now that they are older (Daughter #1 is 13, Daughter #2 is 11, and Daughter #3 is 7), it works. I may add some of the gimmicks in this summer just for my youngest, but the other two don't respond as well to that anymore. They all respond well to money as a motivator, so allowance has been very successful.
It's very simple: Each girl has to practice, do her zones, do her morning routine, and read each day. Mom or Dad must check off the list to ensure that things have been done, but that's it. If they do their stuff, they earn their allowance. If they don't, they don't. You can read more detail about this system HERE. (And if you want to see the cute bulletin board I made to put on my cabinet instead of taping the checklists to it, you can see that HERE.)
Summer is coming up pretty quickly, and I am excited for a change in our routine, but I want to be ready for the inevitable chaos. Chore systems are one way that really helps me to keep the summer chaos at bay.
What is your favorite way to approach summer chores for your children?
You might also be interested in: