Keeping Holiday Tradition Alive With a Kids' Christmas Tree
Beautifully decorated Christmas trees are a big part of the holiday. How to incorporate the homemade decorations your kids make into that tradition.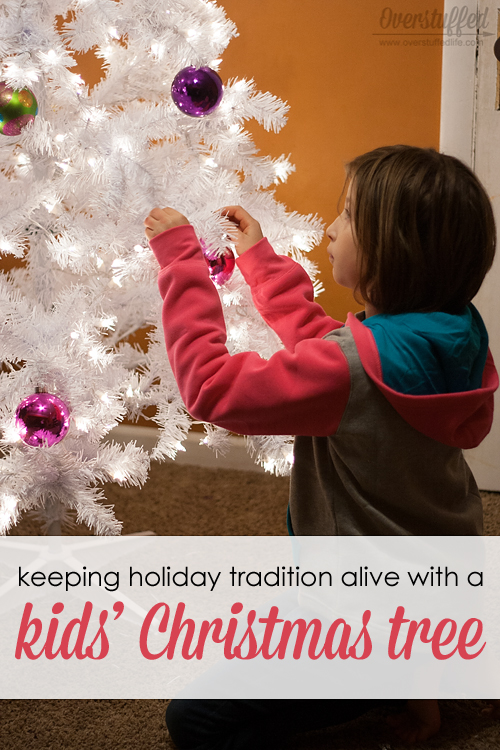 We are super big on tradition at our house. My girls are so into traditions, that if I do something around any holiday just one time, it will automatically become a tradition, even though I didn't intend it to be!
But that's okay with me, because I love traditions just as much as my children do. Having my eldest daughter in high school this year is really making me realize how little time I have with my kids at home before they're off having their own little families. Traditions are something we can hold onto no matter where we are. We feel connected with our loved ones via tradition and it is something my girls can then share with their own children.
Some of my favorite traditions as a child include Christmas caroling to the neighbors on Christmas Eve, visiting Santa, Christmas PJs, and our Christmas Eve nativity.
But my favorite tradition was definitely decorating the tree every year.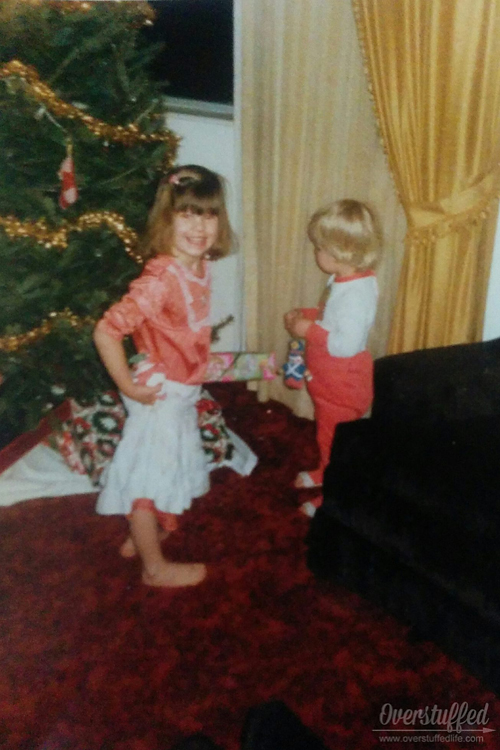 This is a photo of me and my younger brother decorating our Christmas tree together in what I am assuming is 1978. Aren't we cute?
My love of decorating trees has never died. When I was a teenager, sometimes my mom would let me do the whole thing myself and I loved picking the colors and making it look beautiful. It is one of my very favorite parts of Christmas. When I was first married I could not wait to purchase a tree and all the ornaments to go on it. I get giddy thinking about getting the tree up and decorated, and it is understatement to say I go all out on the Christmas tree.
When kids came along, it posed a slight problem with the Christmas tree decorating. It wasn't that they aren't allowed to help me decorate the tree every year, because they totally are. I would never deny them that joy! We decorate together every year and have a wonderful time together.
The problem was when they began to make all kinds of cute ornaments at school, church, and Girl Scouts. Those ornaments did not fit into my tree decor, even though I love every single ornament they make. How could I not love them? Half of them have my children's faces on them, and all of them are handmade with love by their adorable little selves.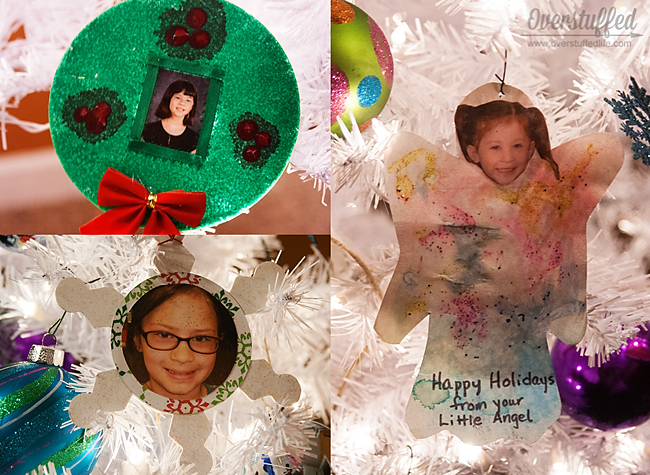 For the first few years, there weren't too many, so they went on the tree anyway. But then I decided the girls needed to have their own tree for all of their fun ornaments.
We started with a little tabletop tree in the dining room that they decorated every year themselves.
But they grew out of that tree after just two years! They are prolific ornament makers! So, I bought a skinny pencil tree and we put it in the family room, while the main tree was in the living room.
But even that tree was too small for all of their fun ornaments after just a few years. Last year I found a 6.5-foot white Christmas tree on sale after Christmas clearance. I asked the girls if they would like that for their tree and the answer was a resounding YES!
So this year, their tree is big and white and beautiful. And they had a blast decorating it!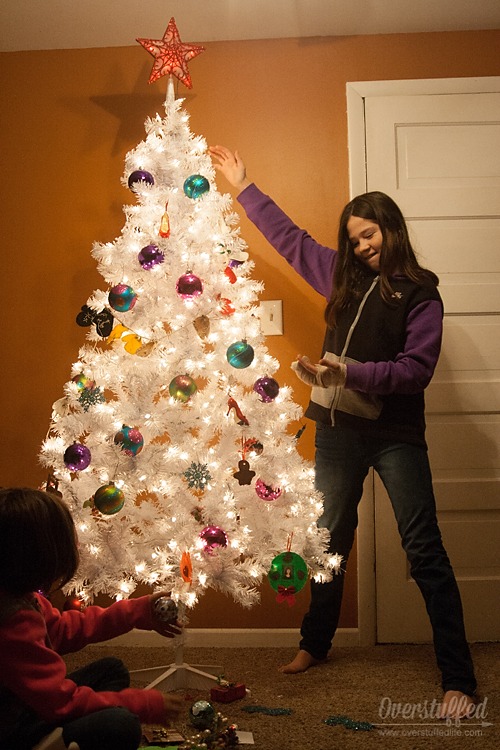 I don't touch it. They do it all themselves. It's fun for me to see that they have picked up on the things I tell them when we decorate the main tree. My middle daughter was totally fussing about too many purple ornaments being in the same area of the tree and making sure things were evenly spaced.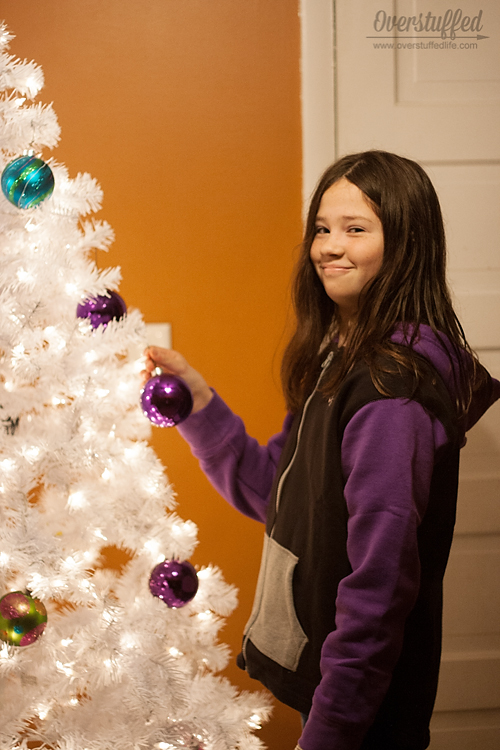 My youngest was very concerned about fluffing the branches correctly.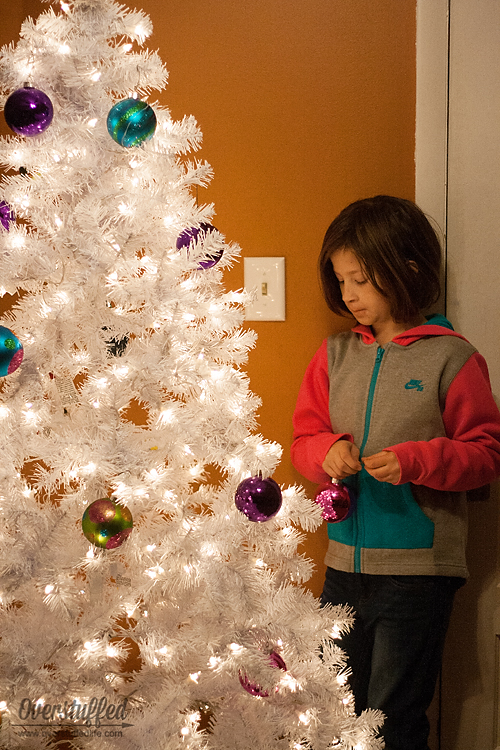 My oldest helped for a little while, but mostly she had to study for a big test.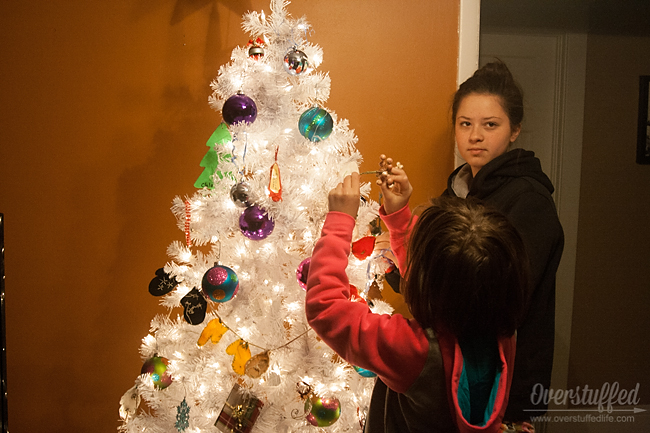 One of my favorite things about that photo of me and my brother when we were little, is that I am wearing a slip over my nightgown. I remember loving that slip and using it as a dress up item all the time. I love that it didn't bother my mom that I wasn't looking "perfect" and she just took a photo as we were. I might not have thought of how much I loved that slip as a child if it weren't in the picture!
My kids also have their own fashion sense. While sometimes I think it would be awesome to have all my children wear perfectly coordinated outfits that match the tree we are decorating, it is not realistic. Instead, I let them wear whatever they want. Even if it is a shirt with their current favorite cartoon character or orange stripes with purple polka dots!
You thought I was joking about the orange stripes and purple polka dots, didn't you? And while it isn't a cartoon character, my middle child was rocking the High School Musical look that year.
This year my two youngest are rocking the sporty comfortable look from Macy's. Celebrity pink jeans (their favorite brand), and cute Nike hoodies keep them warm in our freezing temperatures. Even though they aren't wearing Christmas colors, they are looking absolutely adorable in their purple and pink next to the Christmas tree. Christmas can be bold, bright colors too—just look at the ornaments on that tree if you don't believe me!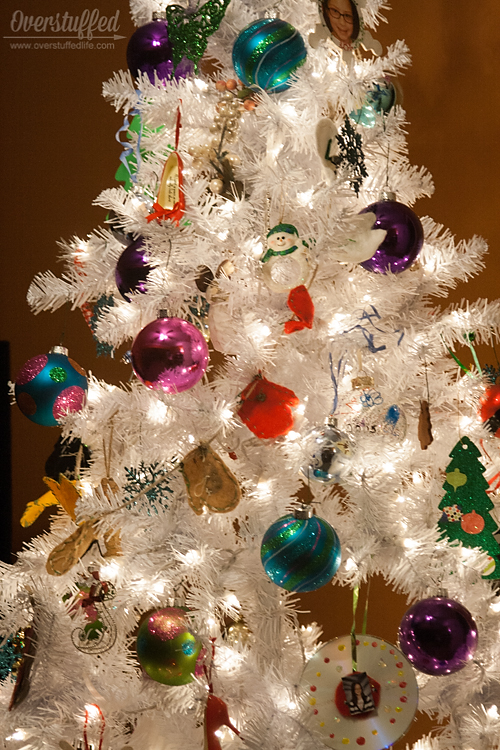 Macy's is my favorite department store. Seriously. I buy as much as I can there for the whole family! If you're looking for affordable and stylish clothing your children will love to wear while decorating the tree or participating in all of your favorite holiday traditions, check out the children's clothing store online here: Kids Clothes at Macy's. They'll have their favorite characters (Elsa, Minions, super heroes and more!), their favorite colors, and definitely their favorite styles.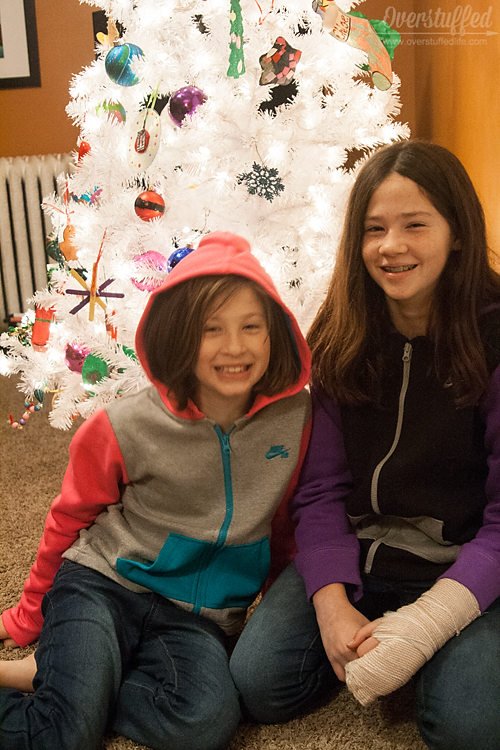 This post contains affiliate links. For more information, see our privacy policy.