Six Christmas Printables Based on Beloved Christmas Carols
As a singer, I love Christmas. My favorite carols to sing aren't the ones about Santa Claus or Frosty the Snowman, though they are definitely fun. My favorite carols are the ones that center on Christ's birth. I love the lyrics and I love the beautiful melodies, but mostly I love how I feel when I sing them.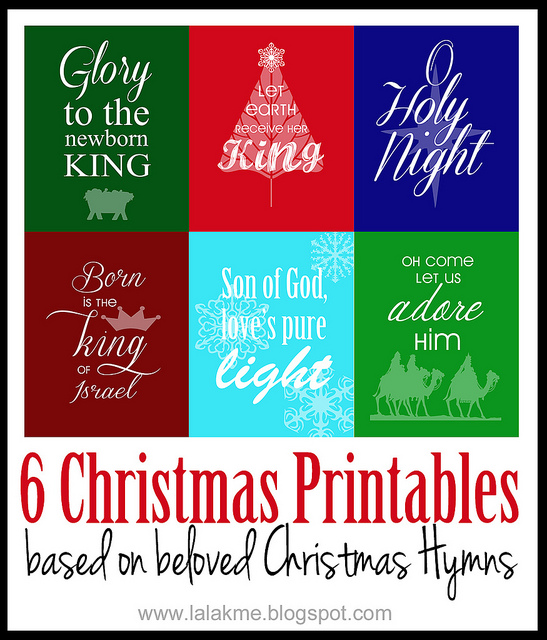 Make sure to check out our Ultimate Holiday Gift Guide—Find hundreds of gift ideas for EVERYONE on your list!
I wanted to use a few of my favorites to decorate with this Christmas Season, but then I couldn't narrow them down, so I just kept making them. I'd like to share them with you.
You can download the printables for your own use at the bottom of this post—but first I'll show you a quick example of how I decorate with these printables. You can use frames that are already in your normal decor and just replace the photo with a printable, or you can buy cheap frames to use specifically for your holiday decor. Either way, the framed printables add a nice touch to Christmas decorating!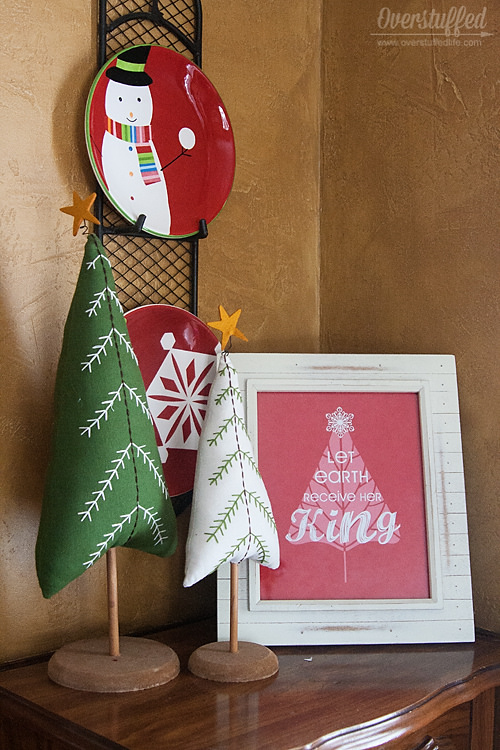 All of these printables are sized at 8×10, but if you send them to a photo printer they will also be okay as 5×7. Don't forget to download them at the end of this post. Enjoy!
Six Christmas Printables Based on Beloved Christmas Carols
O Holy Night is, hands down, my very favorite Christmas carol to sing. Sometimes I can't even make it through all of the verses without starting to choke up a little. I love it.
Gesu Bambino takes a close second to O Holy Night. Of course, this line is also found in Oh Come All Ye Faithful.
What is Christmas without Silent Night? Joel and I recently saw Cantus in their "All is Calm: The Christmas Truce of 1914" concert. Wow. It was amazing. And it solidified the point that we cannot have Christmas without singing Silent Night.
So far, all of these songs are reverent and a little more solemn. Joy to the World captures another side of Christmas—the absolute joy (because there really isn't a better word) we should feel when we think of our Savior and the fact that he came to Earth to save us.
Hark, the Herald Angels Sing is perhaps one of the more iconic Christmas carols out there. It always reminds me of the end of It's a Wonderful Life! when Barney finally gets his wings. Musically, it's not my favorite to sing, but it must be sung for Christmas to feel like Christmas.
Finally we have the last line of The First Noel. I love to sing the chorus of this one, I find it absolutely beautiful. Born is the King of Israel!
I have so many other favorites—I love singing about the birth of Christ. But I had to stop somewhere. I hope you enjoy them!
What are your favorite lines from Christmas carols?
To download:
Enter your email address into the form at the end of this post and all of the printables will be sent to your email inbox.
More holiday printables:
Download 6 Christmas printables now!
Enter your email address and receive the printable right to your email inbox.