That Our Strength May be Faithened
This weekend was October General Conference.
I love everything about it.
I love sleeping in on Sunday morning instead of having to get up early and get everyone ready for church.
I love napping between sessions. Or during sessions. My puppy also loves napping during sessions.
I love eating good food during conference. (We no longer do cinnamon rolls because I have not found a good gluten-free option yet, but today we had a yummy pumpkin dessert and chicken noodle soup.)
I love sharing the day with others. (We invited two of my Institute students for dinner and a session today.)
I love watching what my youngest does when she gets bored during Conference.
I love staying in my pajamas all day.
I love being with my little eternal family.
And most of all, I love listening to the words of our prophets.
During the last session, the elder who was saying the opening prayer had a spoonerism and said "That our strength may be faithened" instead of "That our faith may be strengthened." While it made me smile, it also made me think. We need both in our lives.
It's good to have our faith strengthened. But sometimes our actual strength gives out on us, and we need an extra boost of faith. And sometimes, we rely too much on our own strength. It's important to remember to keep faith as part of the equation. To faithen our strength.
I think it might have been my favorite quote of all of conference, actually.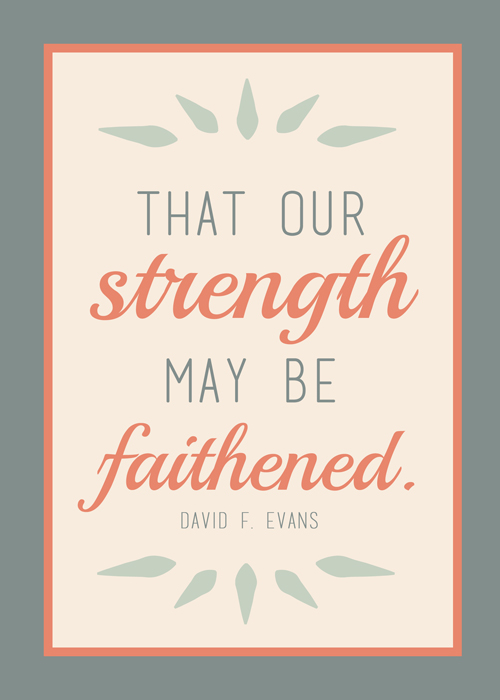 Click HERE to download this printable.
Happy Sunday! Hope it was as wonderful as mine.