Thanks a Million Teacher Appreciation Printable and Candy Bouquet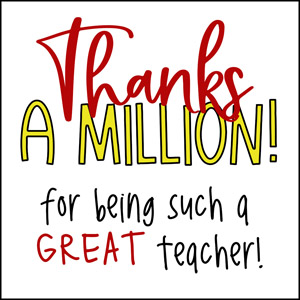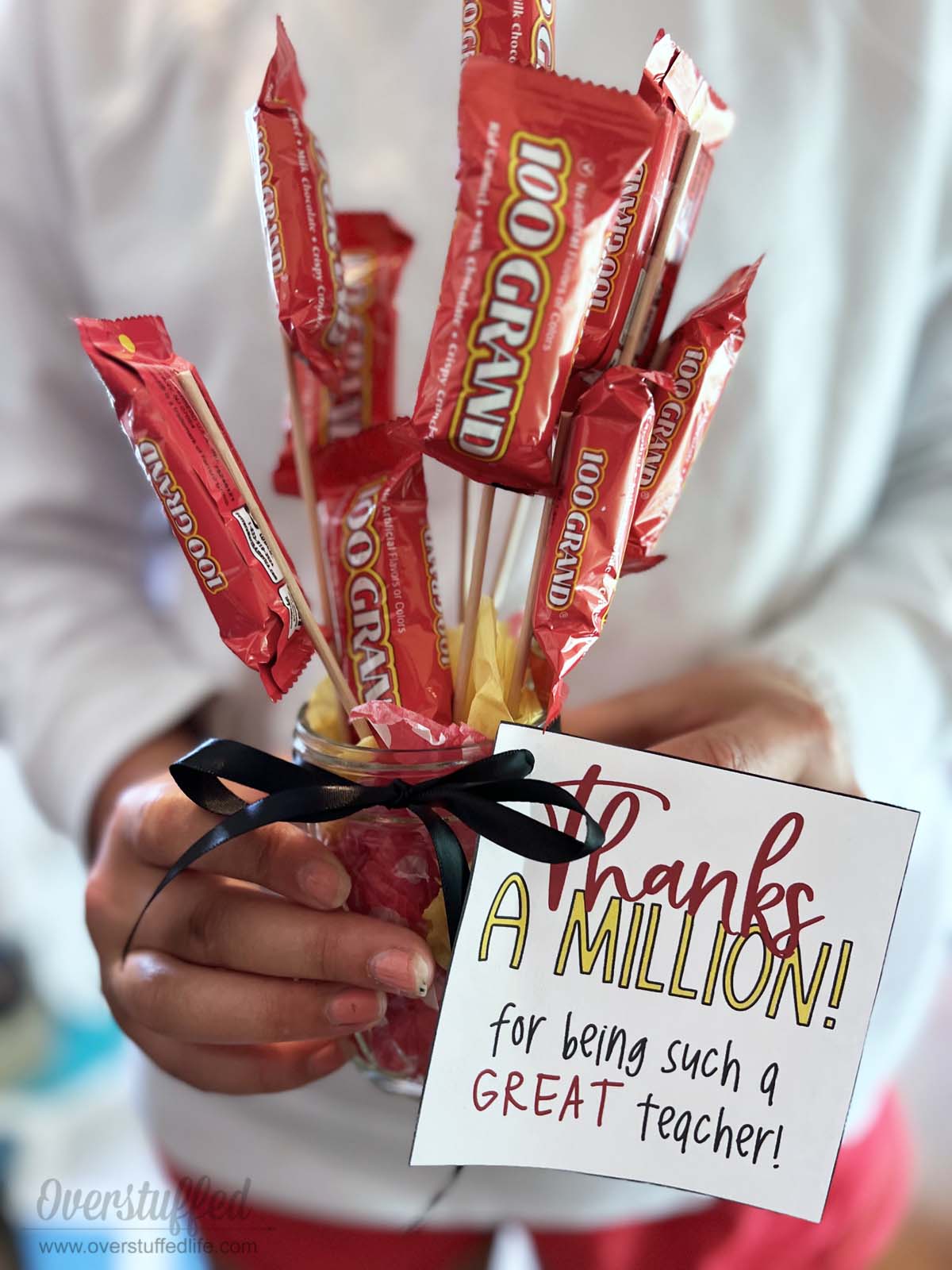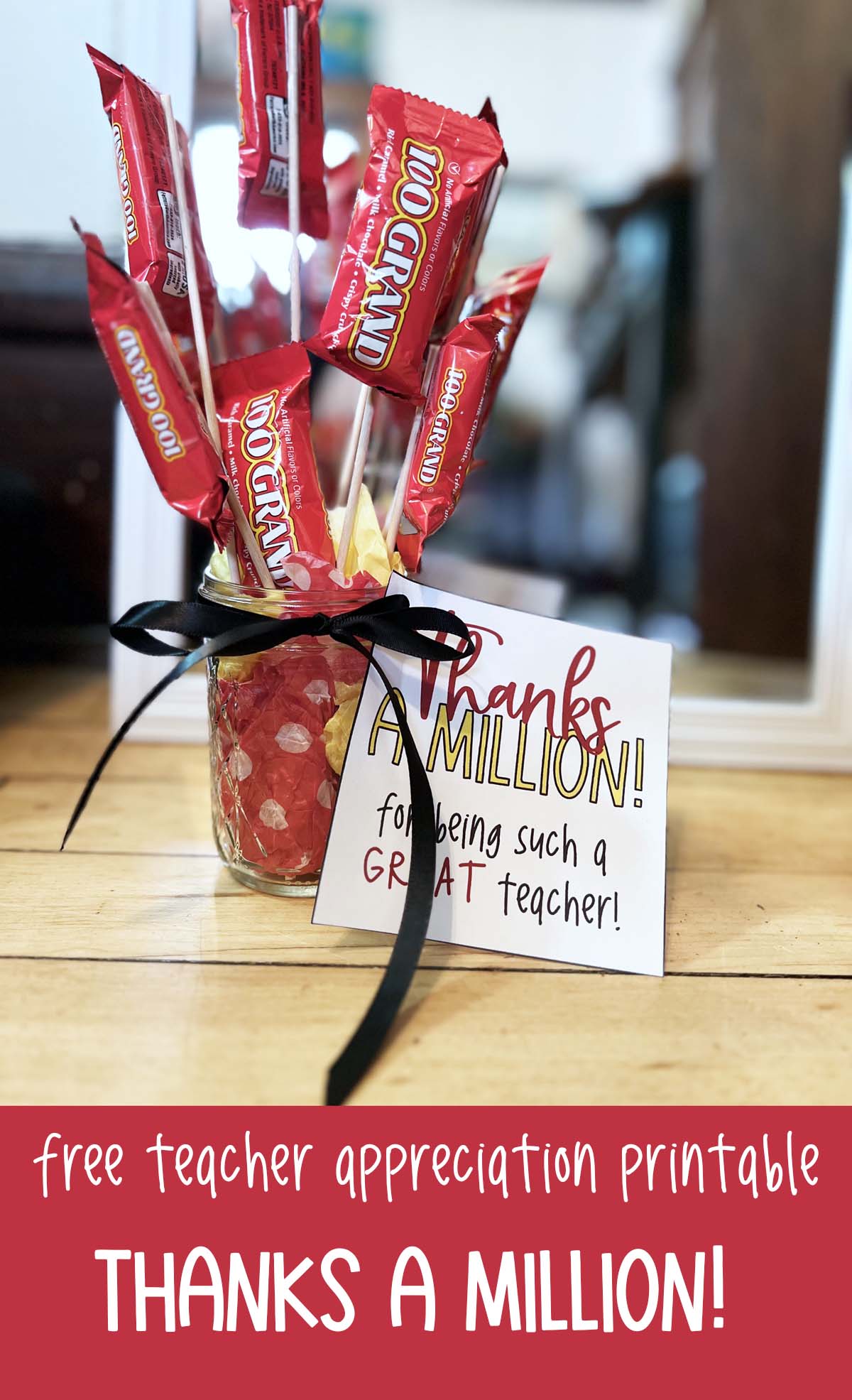 Download this free printable to use with a bouquet of 100 Grand candy bars for Teacher Appreciation Week or the for and end of the year gift on the last day of school.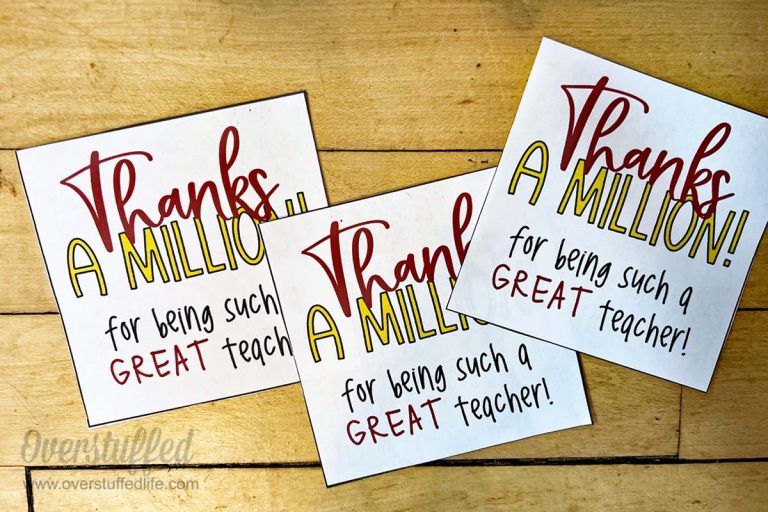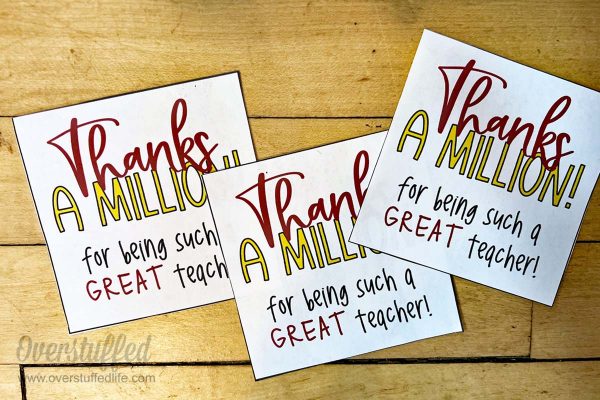 Back when my middle daughter was graduating 5th grade, she made a candy bar bouquet for him out of 100 Grand candy bars for the last day of school. We threw it together last minute (you can see it here: 100 Grand candy bar bouquet teacher gift) and I have intended to make a printable for the idea for literal YEARS. That daughter got married last month, and I'm finally getting around to doing it!
It's a fun tradition to come up with end of the school year teacher gifts for your child's teacher. The difficult part is to find something you know that your teacher will really like. Most teachers prefer a little note of thanks over a large gift, but I think edible gifts are an easy gift idea and are well-received. Just make sure to also include the handwritten note!
Of course, teacher appreciation gifts are not just reserved for elementary school teachers. High school teachers and middle school teachers also love being remembered. A small gift is the perfect way to show the special teacher who was patient with your child's difficulty in chemistry just how much their hard work meant. I have found that my older kids really want to give a token of thanks to the teachers who made a huge difference in their lives.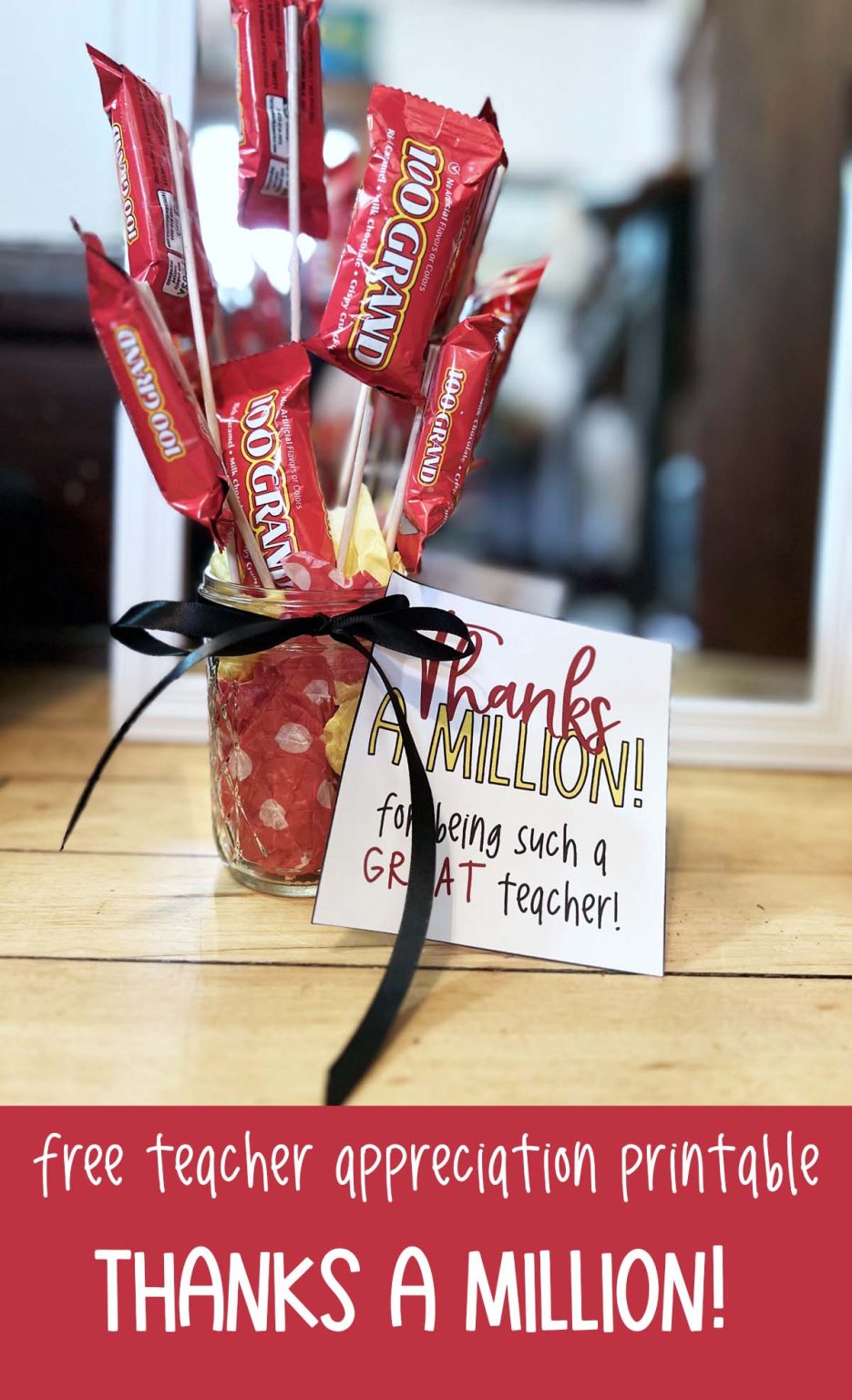 I love the idea of the 100 grand candy bar bouquet because it's just a cute way to say thanks a million to a wonderful teacher!
Find more teacher appreciation printables here:
Candy Bar Bouquet supplies:
(affiliate links—see privacy policy)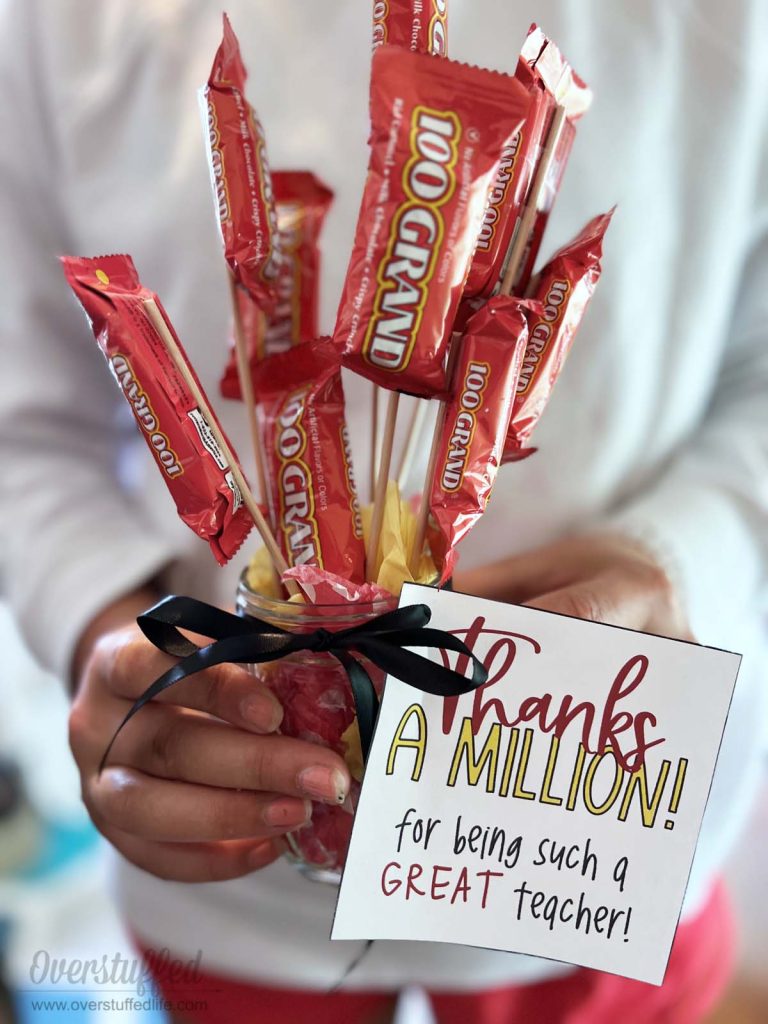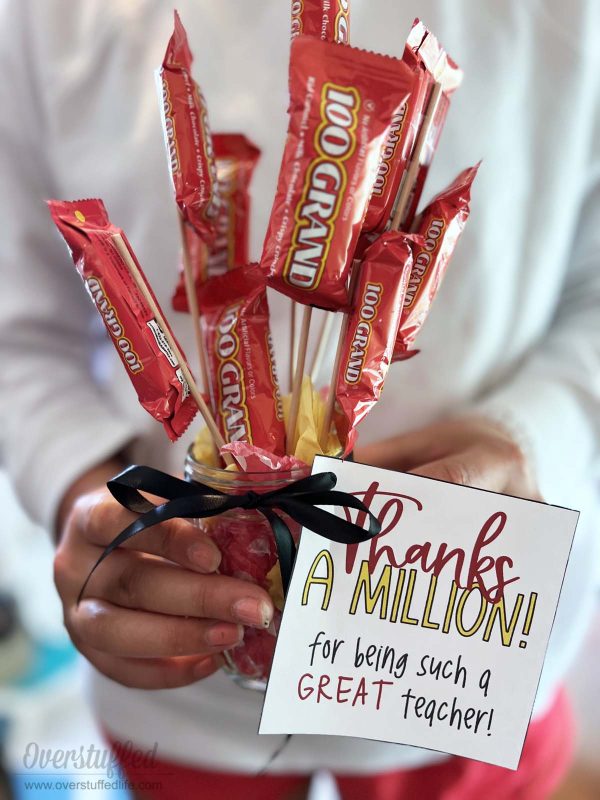 Candy Bar Bouquet Directions:
1. Tape each candy bar to a skewer. You can use scissors to cut the skewers to different sizes so that the bouquet looks fuller. I use gift wrap tape because it doesn't show up on the candy bars at all. You could also use pencils instead of skewers, which is a creative way to include school supplies as part of the gift.
2. Once you have taped all 10 candy bars onto skewers, arrange them in a small mason jar. You could use any sort of container, though. When we made the bouquet with full size candy bars we used a large tin can from our food storage. A coffee mug or any small vase would work really well, too.
3. Use the tissue paper (I used red and yellow tissue to match the candy wrappers) as filler to keep the skewers secure. Rip it into smaller pieces, crumple it up, and arrange as needed until your arrangement feels sturdy enough. The final effect looks really cute in the glass jar.
​4. Print out the "Thanks a Million" teacher appreciation gift tags onto white card stock. They will print four tags to a sheet of paper.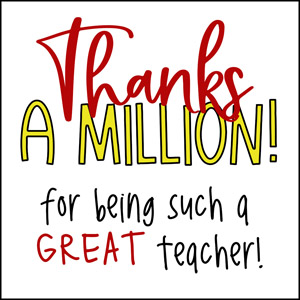 5. Cut out the tags using scissors or a paper cutter. Punch a hole in the corner of the gift tag and thread the ribbon through the hole. Make sure to have your child leave a handwritten note to their awesome teacher on the back of the tag for an easy personal touch.
6. Tie the ribbon and tag around the jar, and voila! You have a great gift ready to give to a great teacher! Use this gift for the last day of school or for teacher appreciation day, or even just because.
To Download the printable:
Enter your email address into the form at the end of this post for an instant download. The pdf file will be sent directly to your email inbox. Easy peasy!
These printable gift tags are for personal use only.