I am the Primary President in my little branch, and I was having a hard time coming up with something to do for birthdays this year. One of my best friends is also the Primary President in her ward and she gave me the idea to do these coupons.
The coupons are for a handshake and a special treat from the Branch President. After Primary, they can go knock on his door to redeem them. They will also be getting a picture of the Chicago Temple, which goes with the 2014 theme of Families Can Be Together Forever. Since our Branch President does not typically keep candy in his office, I used the Primary budget to purchase some candy bars he can hand out to the kids—I'm just doing it on a month by month basis so he's not too tempted to eat them all himself during all of those long meetings he's got!
I also made some blank ones that can be used for Primary, your own kids' birthdays, school classrooms, you name it. That's the beauty of blank!
I had my first set of birthdays this past Sunday and the two of them really seemed to like the coupons. I made sure to write a personal message to each of them on the back, as well. (Even though they were both children of the Branch President himself, they were quite excited.)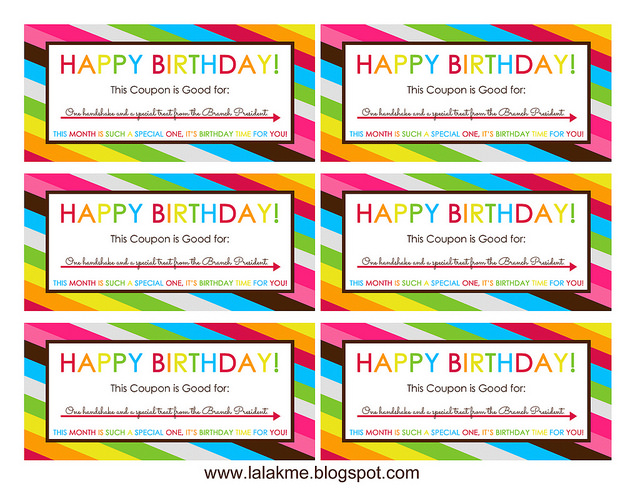 Enjoy!
Download the Printable
Enter your email address to get the Blank Birthday Coupons delivered straight to your email inbox.