Back to School Feast and Family Theme: Be a Pineapple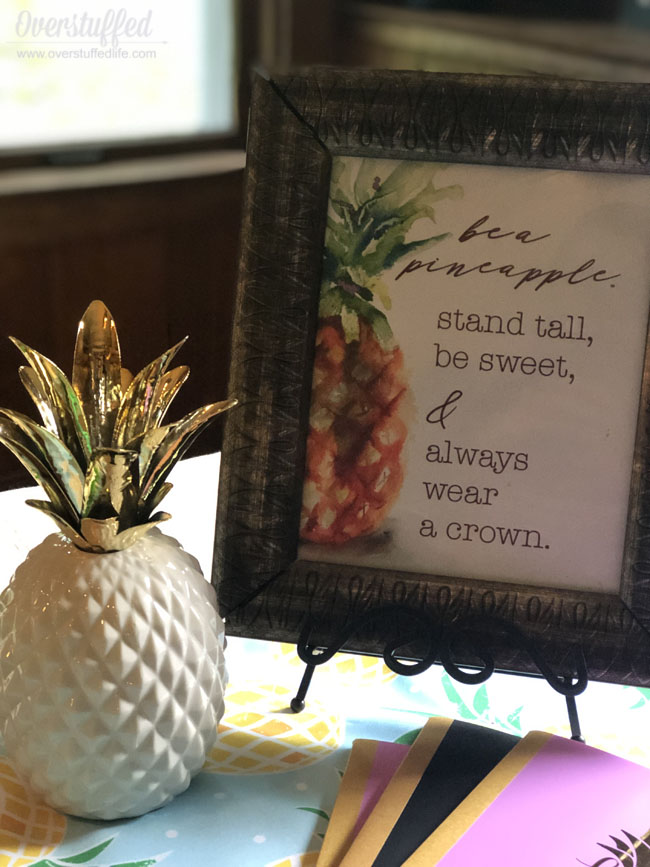 A back-to-school feast and family theme is a great way to kick off the school year for your kids. This tradition is something they look forward to every year and helps them to be excited to go back to school.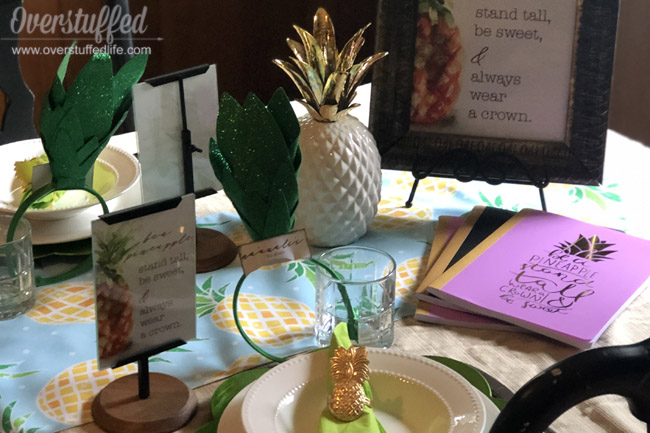 One of our favorite family traditions is our annual Back-to-School Feast.
The night before school starts, we have a nice dinner to celebrate the end of summer and kick-off the new school year. We introduce a family theme to focus on for the upcoming year, the kids model their first day of school fashion choices, and they receive their Father's Blessings.
I often find that I don't have a lot of time to plan for this tradition and just throw something together, but every once in a while, I feel I need to be super thoughtful about it and spend a lot of time planning. That is what happened this last school year.
I really wanted our theme to be something that would remind them of who they are and the potential they have—even though school and friends and being teenagers in general can be difficult.
I was scrolling through Pinterest looking for ideas and I came upon the popular quote about being a pineapple, and I knew it was perfect.
Voila! Our 2019-2020 family theme was born!
"Be a Pineapple—Stand tall, be sweet, and always wear a crown."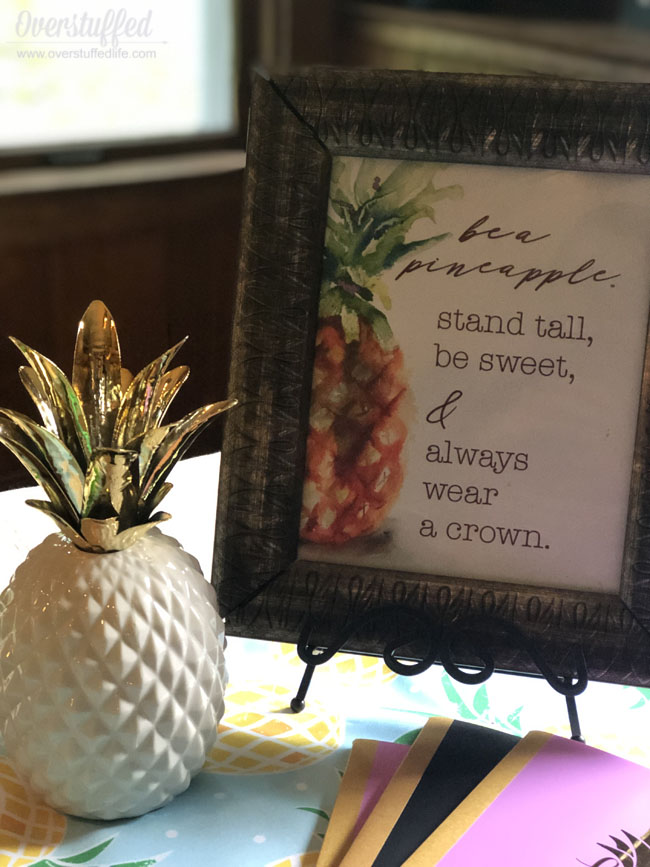 Stand tall: I want my girls to remember they are amazing no matter what struggles they go through this year.
Be sweet: I hope they will always be kind to everyone.
Always wear a crown: I want them to always remember that they are daughters of God and to act like the queens they are by being an example of goodness every day.
Download "Be a Pineapple" printable
Enter your email address and receive the printable right to your email inbox.
I got so excited about this theme! I had a lot of fun shopping and prepping the menu and making the printable sign that we always display in our home each year.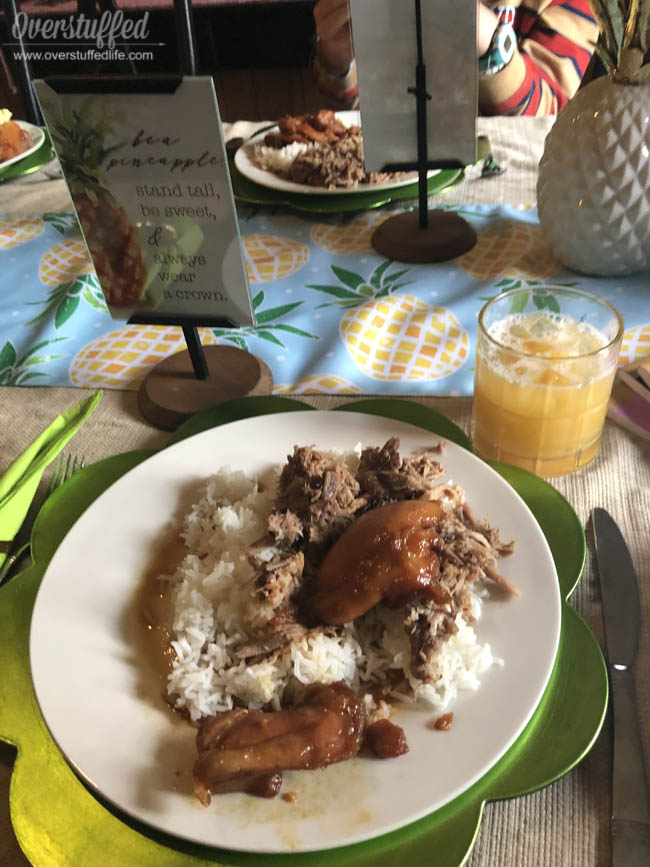 Menu:
It was a no-brainer to serve luau for this feast. My husband is Hawaiian, so he pulled out his family recipes for Kalua Pork, Teriyaki Chicken, and Mac Salad. Served with rice, of course.
We had pineapple upside down cake for dessert and drank Hawaiian Punch.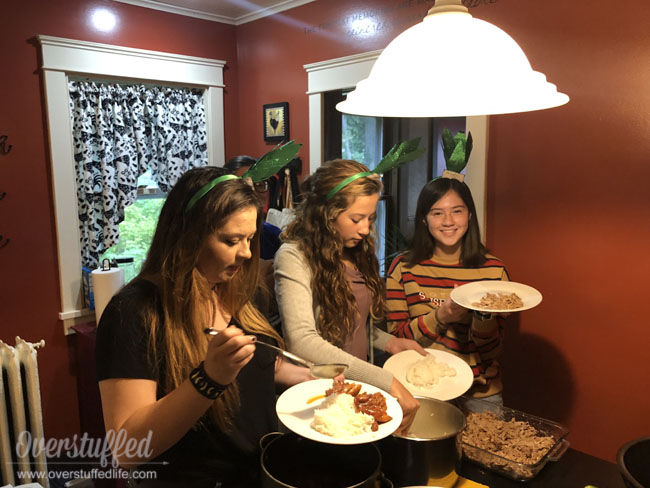 The girls were pretty thrilled with the luau food—we only do luau once or twice a year on special occasions and they all love it.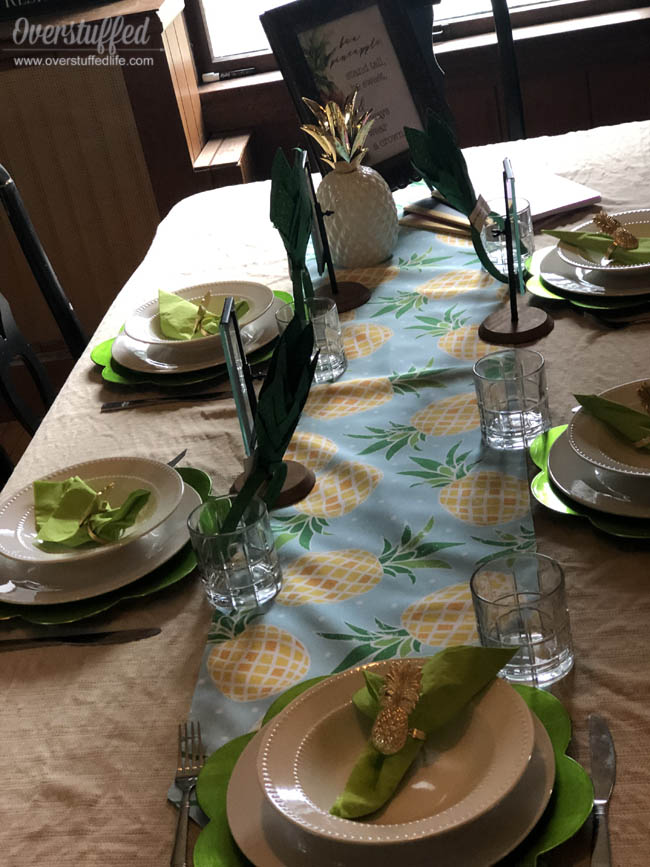 Table Decor:
I try to make the table decor as fun and fancy as possible, while also matching it to the new theme. Obviously I went all out on the pineapple decor this year! (Affiliate links below)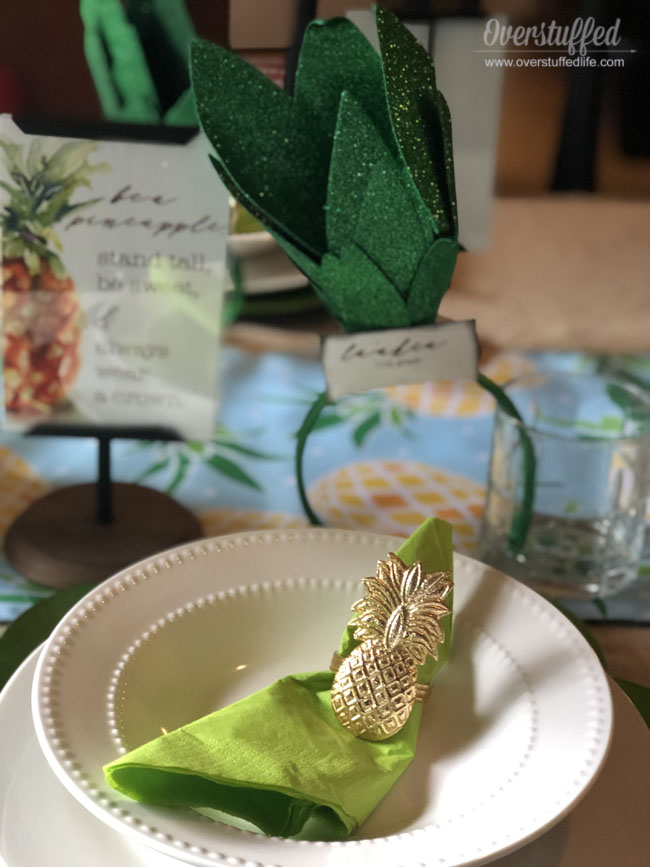 I just used green paper napkins with the napkin rings because I didn't have any cloth napkins to match.
Crowns:
Every year I have made some sort of crown for the feast. The crowns always denote their name and which grade they are going into—and they will NEVER let me quit this part of the tradition.
When we started the crowns, they were all little—my youngest was only 3 years old and she'll soon be starting high school. I thought they might stop caring about them and grow out of wanting to wear one, but I was wrong.
The crowns are their very favorite part of this thing!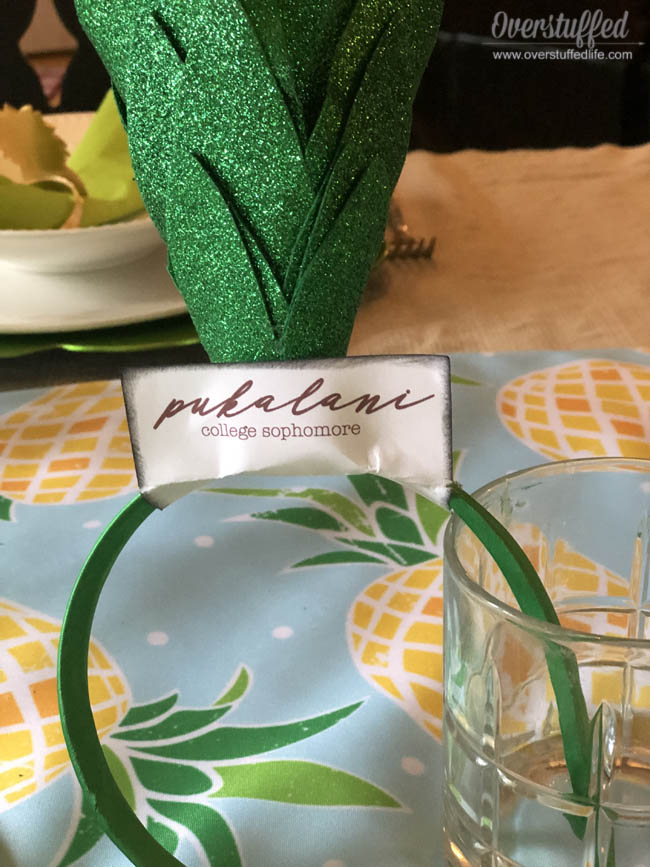 This year, since part of the theme actually says "always wear a crown," there was no way I could skimp on the crowns this time. I thought it would be really cute if they were pineapple crowns, and so I bought these adorable pineapple headbands.
Since my husband is Hawaiian, that means my girls are also Hawaiian and have actual Hawaiian names. I used those names on their crowns this year by printing them out on card stock and attaching them to the headbands.
I kind of think they are the cutest crowns we've ever had—they'll be hard to beat.
Theme display:
Each year I make a printable that I frame and display in our dining room (scroll to the bottom to download a copy). I love this year's so much that I might keep it on display forever!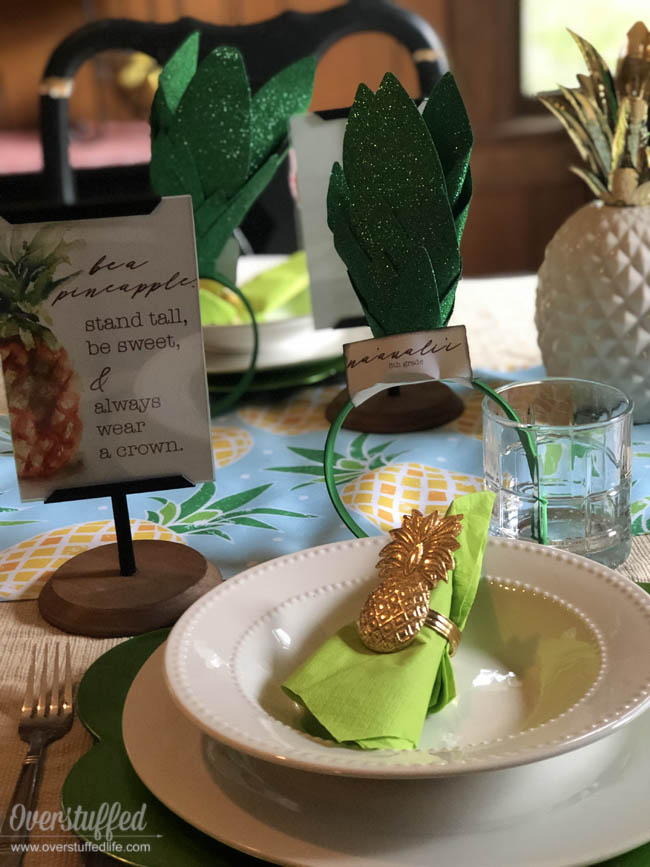 I also try to make a smaller version for each girl—something they can display in their lockers, on their mirrors, or in their bedrooms.
This time, I found some cute frames and framed a 4×6 version of the theme. All of them have it displayed on their dressers, where I hope it reminds them daily to stand tall, be kind, and remember they are daughters of God.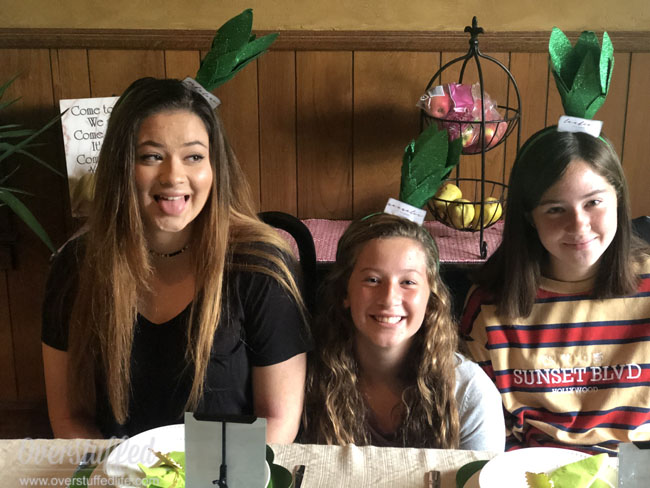 Here are my beautiful Hawaiian princesses in their pineapple crowns! It's also a tradition to take crappy photos of them at the feast…
My eldest, who went away to start her sophomore year of college and then ended up back home for much longer than we thought she ever would due to Covid-19.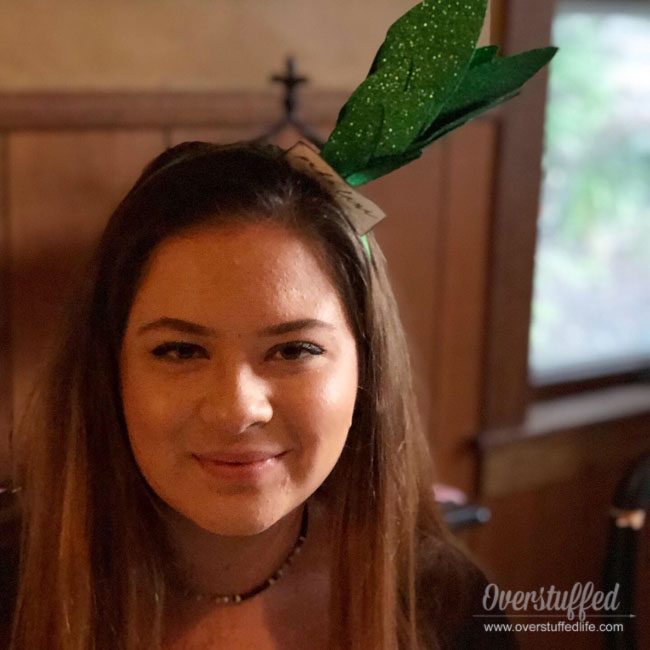 My middle daughter, who began her junior year of high school.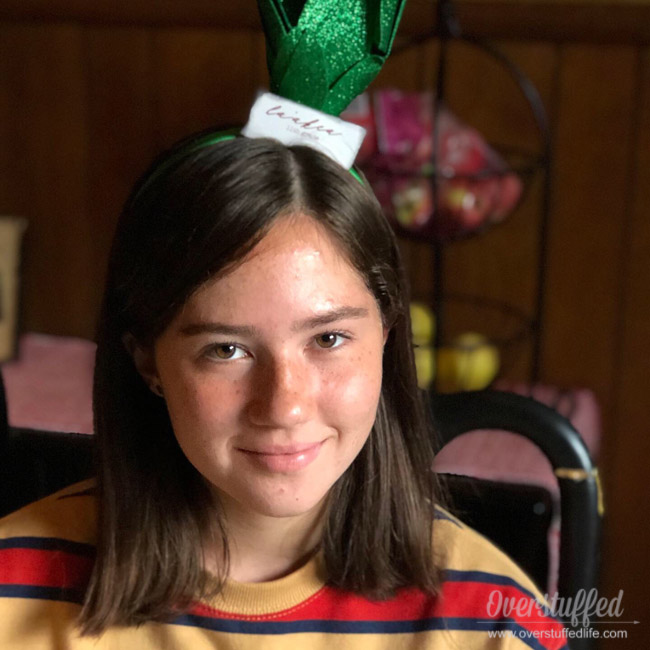 My youngest, who went into the 8th grade and finished up her middle school career.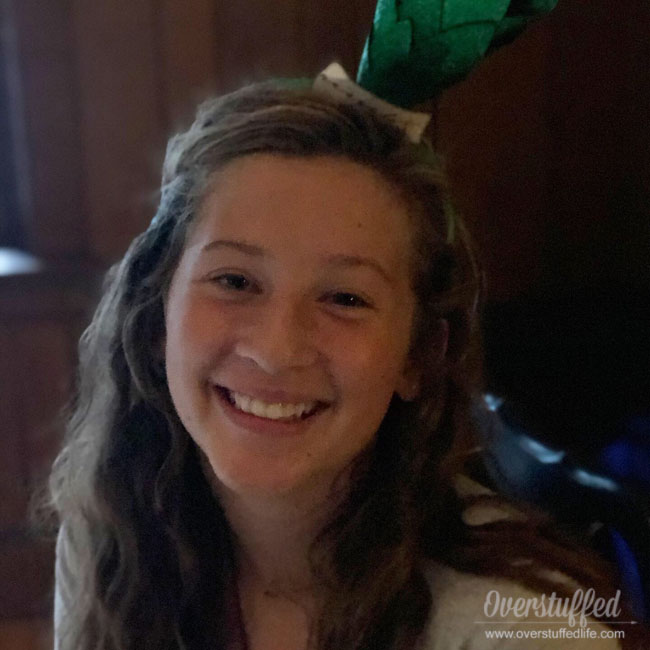 After dinner, we always finish up with our annual Father's Blessings, which is something we do as members of The Church of Jesus Christ of Latter-day Saints. I love the peace and the advice they are given from their dad, and I think this year it was especially needed—who could have ever thought we would finish out the school year in a worldwide pandemic?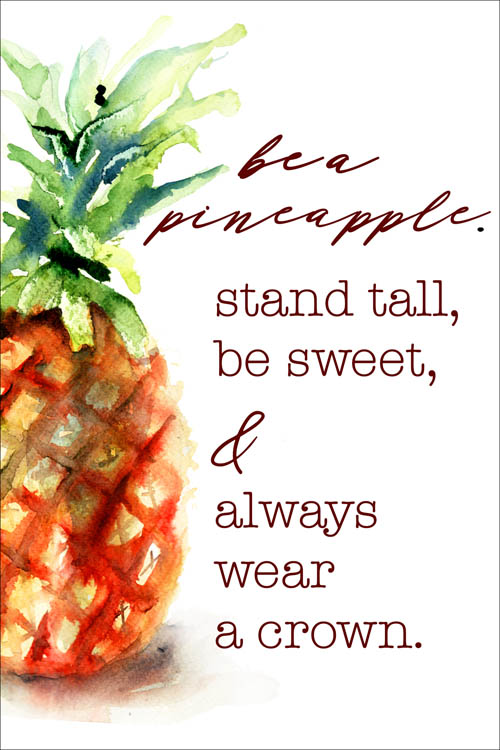 This post may contain affiliate links, for more information, please see my disclosure.
Download "Be a Pineapple" printable
Enter your email address and receive the printable right to your email inbox.