Back to School Feast and Family Theme: Be Like a Flamingo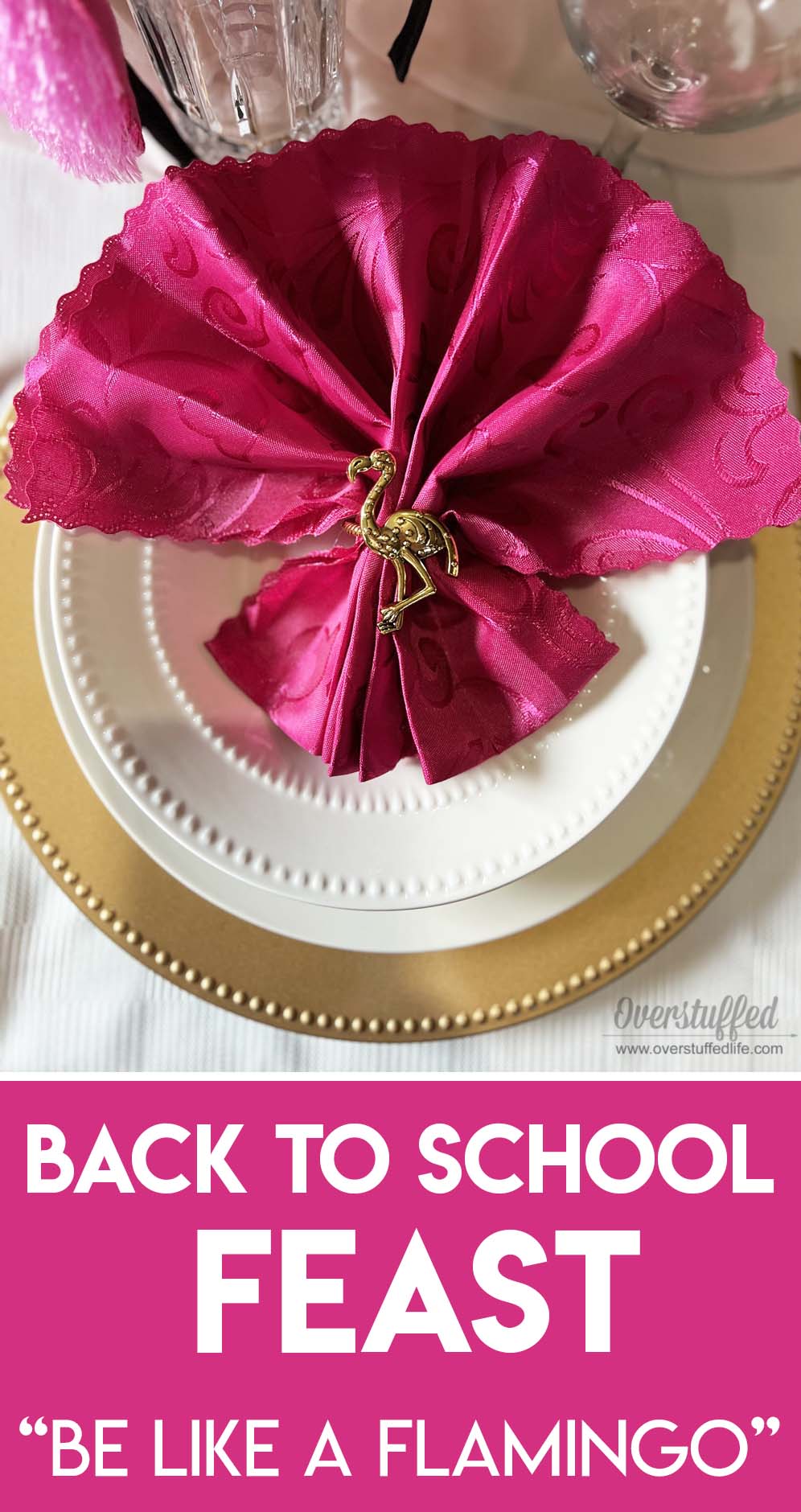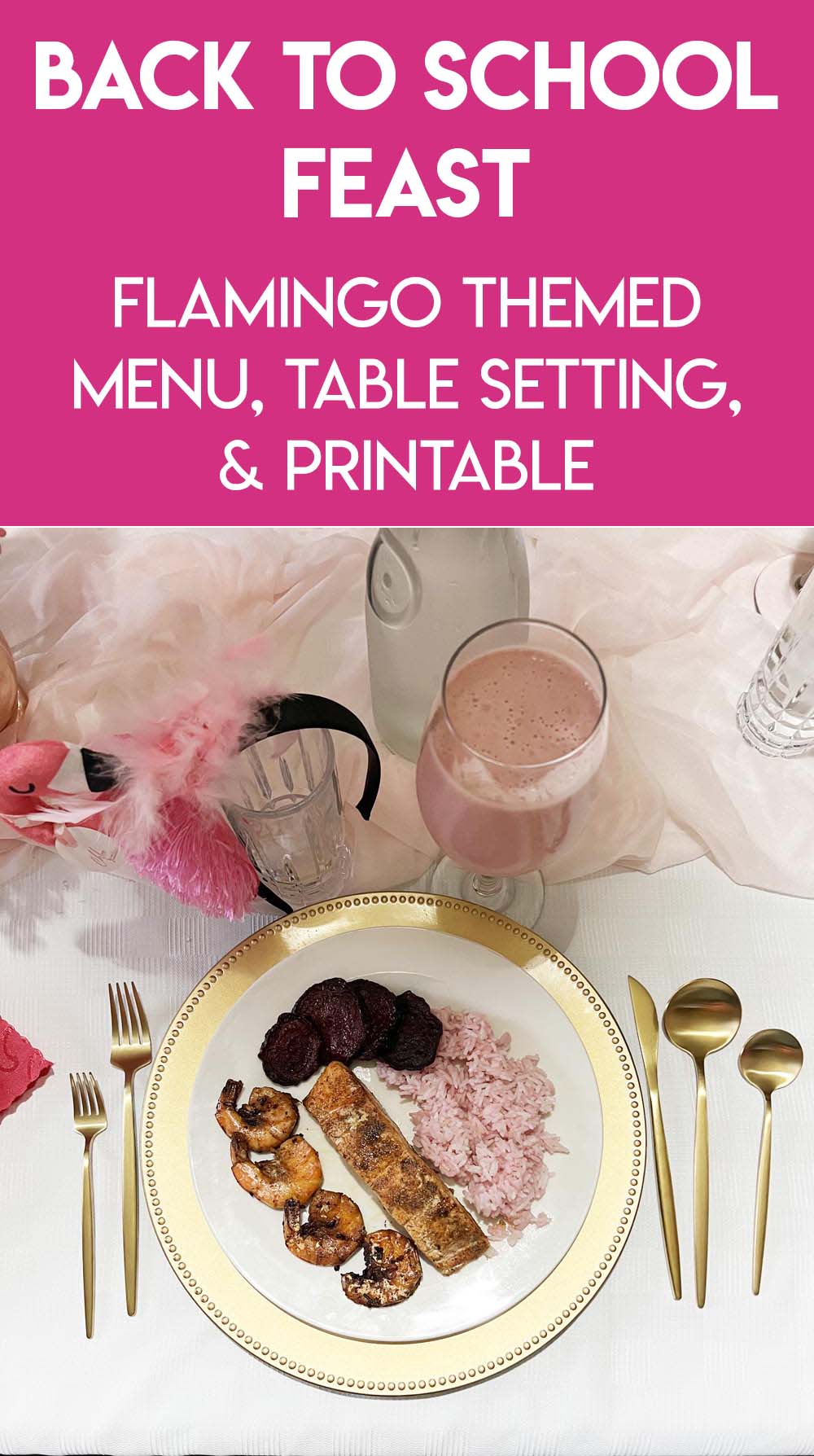 A back-to-school feast and family theme is a great way to kick off the school year for your kids. This tradition is something they look forward to every year and helps them to be excited to go back to school.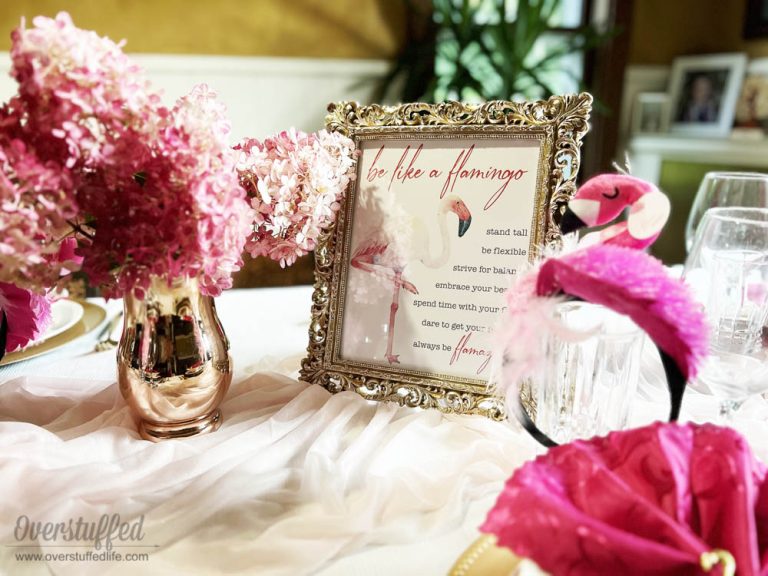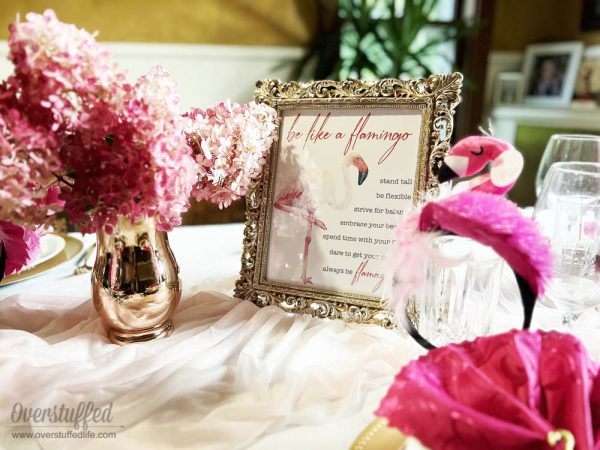 This year marks our 15th annual Back-to-School Feast. This tradition is definitely a favorite in our family! It is so beloved that my newlywed daughter and her husband even came to town specifically for the feast this year.
I wanted this year's feast to be better than ever—our youngest daughter is beginning her senior year in high school and we will be looking at an empty nest next year at this time. Our oldest is beginning her 6th year of college and will actually graduate this spring (dang Covid really set her back), and our newly married middle daughter is taking a break for fall semester and hopes to transfer schools for spring.
Basically, this might just be our last back-to-school feast ever. It had to be a good one!
My youngest daughter has been obsessed with flamingos this past year, so that is how our theme was born. I take no credit for the theme as the internet had me covered and I modified this flamingo sign to fit our needs.
Our 2023-24 theme is longer than usual, but perfect for the variety of adventures our children are experiencing this year.
"Be Like a Flamingo"
Stand tall. Be flexible. Strive for balance. Embrace your beauty. Spend time with your flock. Dare to get your feet wet. Always be flamazing!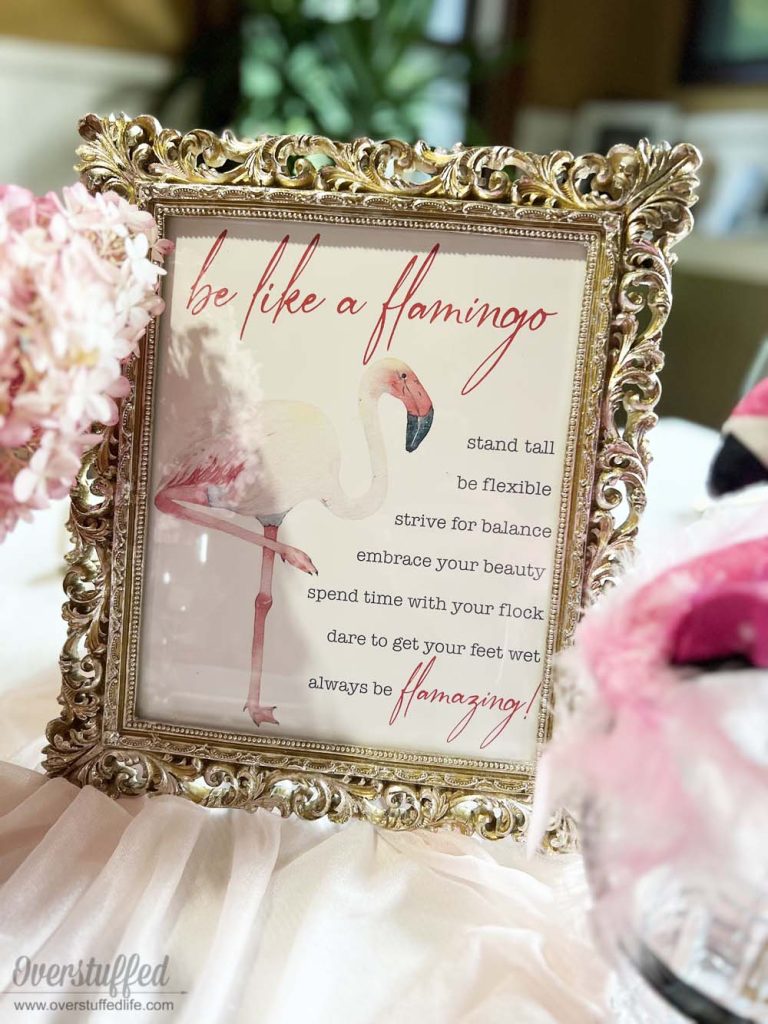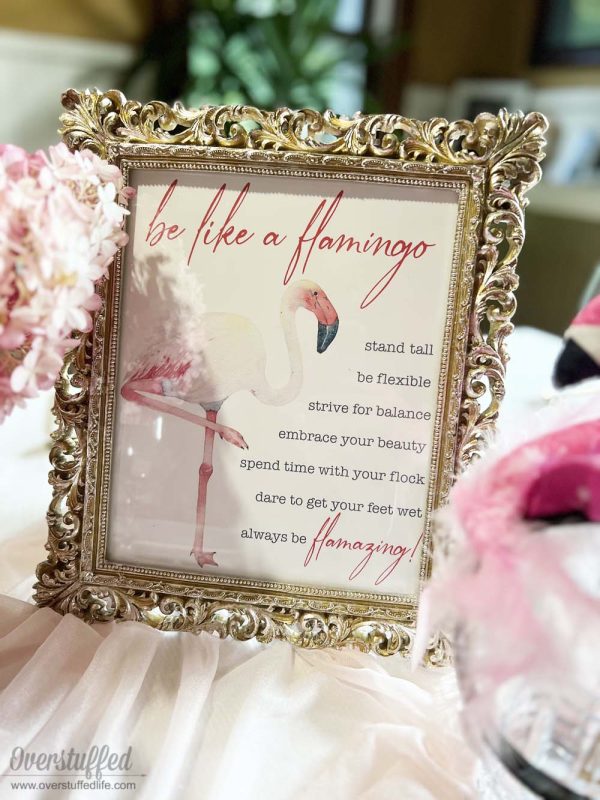 Stand tall: I want my girls to remember their worth, no matter how hard things get during the school year. (Stand tall also figured in our Be a Pineapple theme.)
Be flexible: Sometimes life throws curveballs, and it's important to learn flexibility and adaptability.
Strive for balance: It's easy to get overly focused on one thing whether that's school, work, sports, or even a boyfriend. I want my girls to remember to balance their priorities.
Embrace your beauty: I hope they will not compare themselves to others, but that they will see their own unique beauty.
Spend time with your flock: Personal relationships are important! I hope they will make time to be with family and friends
Dare to get your feet wet: I hope they will try new things, talk to new people, and find new talents this year.
Always be flamazing: A fun way to remember all of the above!
Once the theme was decided, my husband and I had a great time coming up with a printable, the menu, table decor, and our traditional crowns.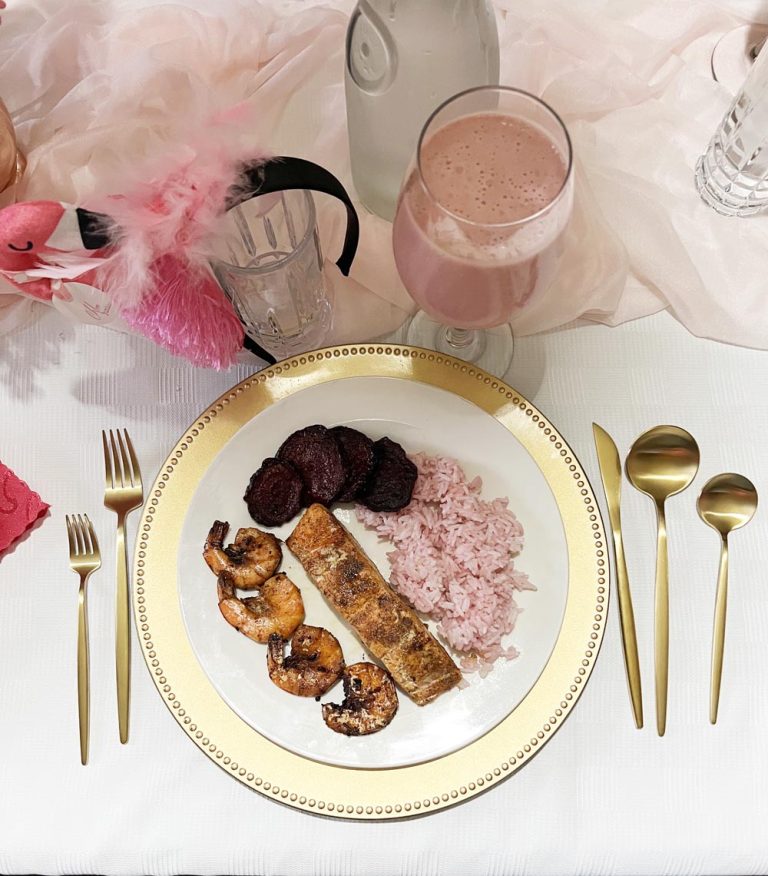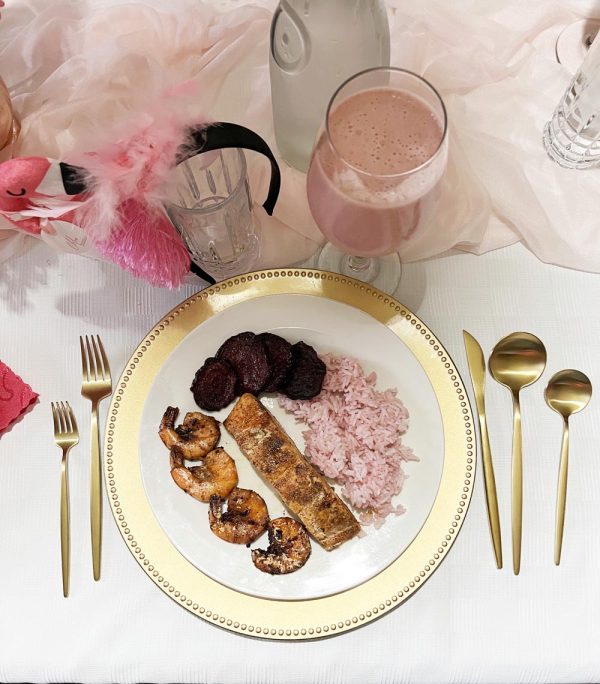 Be Like a Flamingo Menu
For the menu, we thought of things a flamingo might eat and things that are pink. We came up with a meal that the girls absolutely loved!
For dessert we had one of our favorite fall desserts: Pumpkin Layered Pudding Dessert. It isn't pink, but some flamingos have orange feathers, too, right?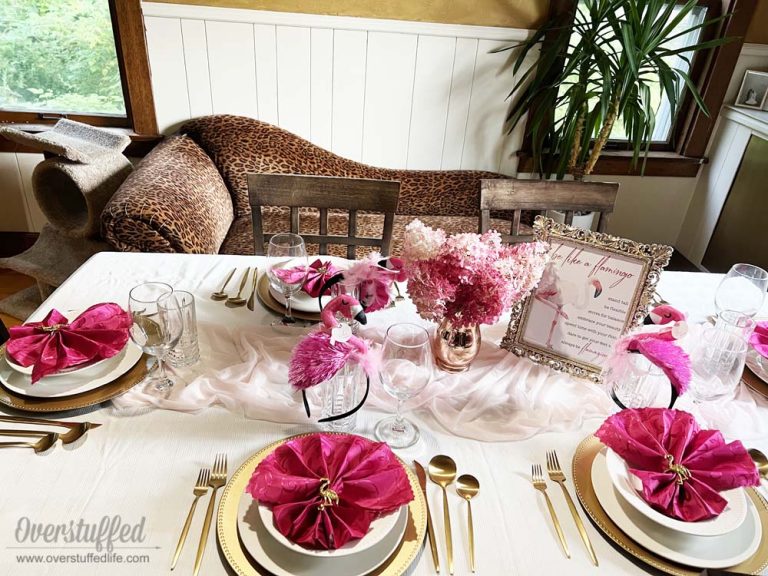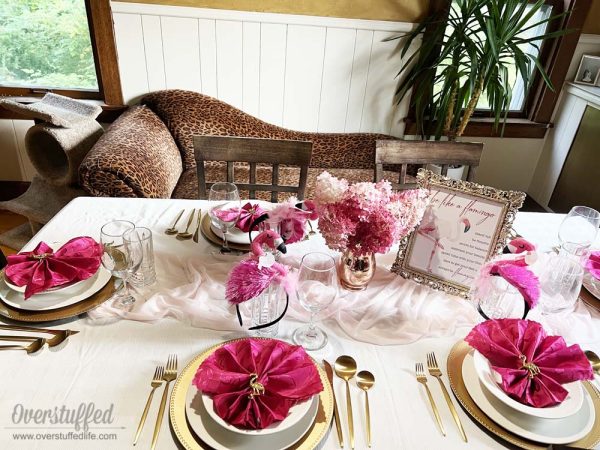 Be Like a Flamingo table decor
We try to make the table decor as fancy and fun as possible while matching the theme. It's a great excuse to get out the nice dishes and/or buy a few new things for your table.
This year, we went all out on the pink flamingo theme! Affiliate links below.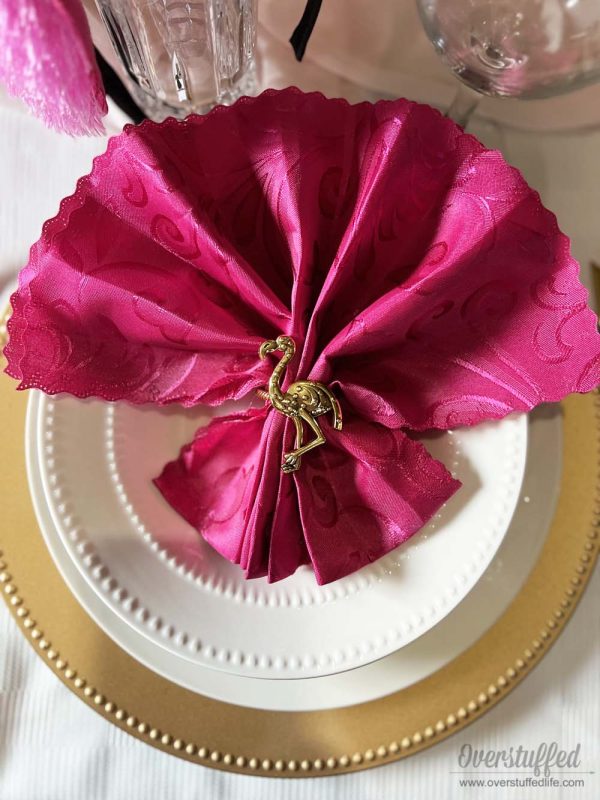 I used my favorite plain white dinnerware and a basic white tablecoth. The final product was really stunning!
For the flower centerpiece, we cut some pink and white hydrangeas from our garden. In a gold-ish vase, they were the perfect finish to the flamingo tablescape!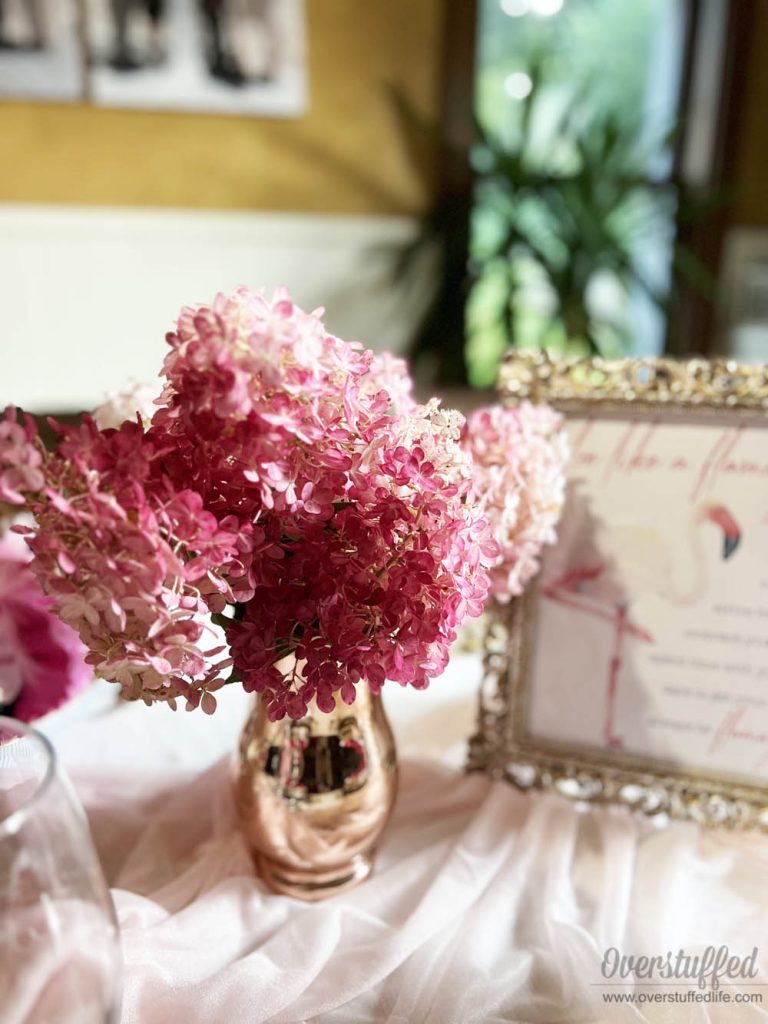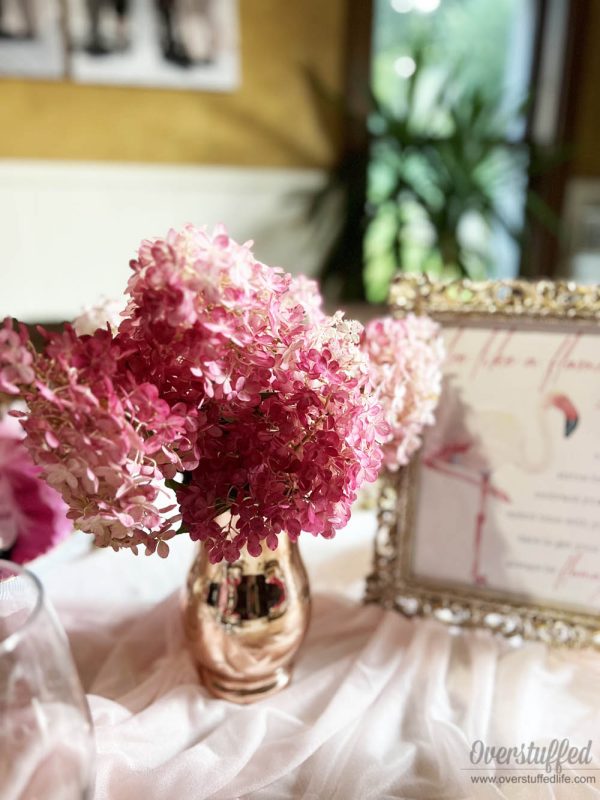 Be Like a Flamingo Crowns:
Every year I have made some sort of crown for the feast. The crowns usually somehow correspond to the theme and include their name and which grade they are going into—and they will NEVER let me quit this part of the tradition.
When we started the crowns, they were all little—my youngest was only 3 years old and this year marks her final year of high school. I thought they might stop caring about them and grow out of wanting to wear one, but I was wrong. Even the college girls continue to love the tradition.
The crowns are definitely their very favorite part of this thing!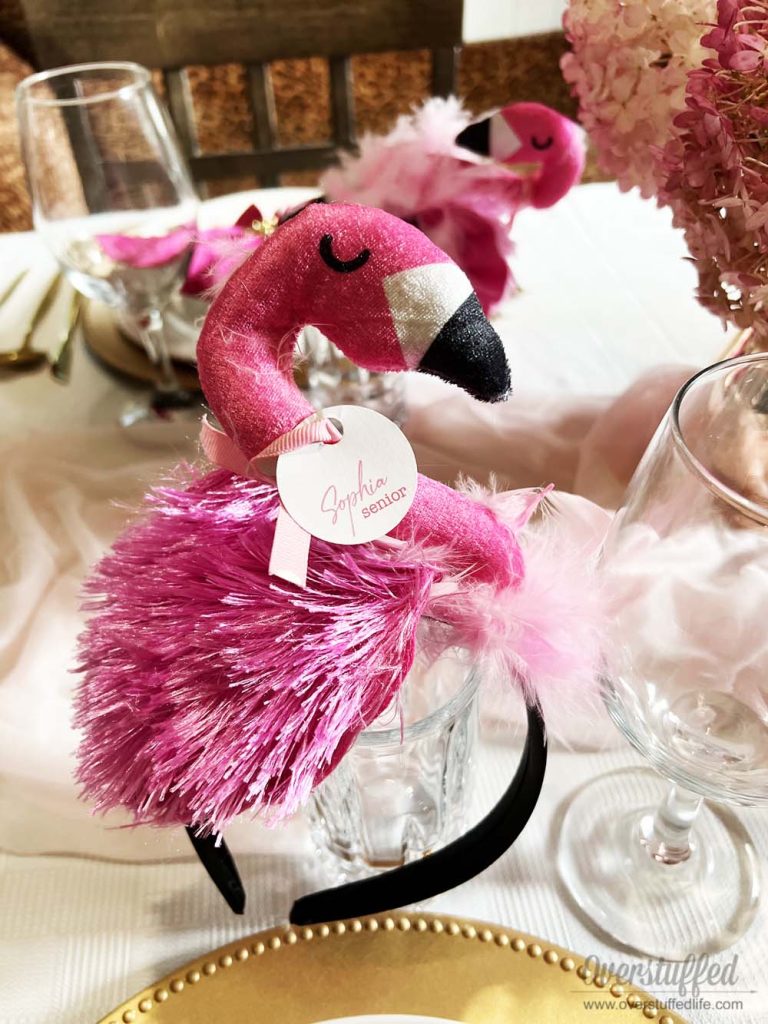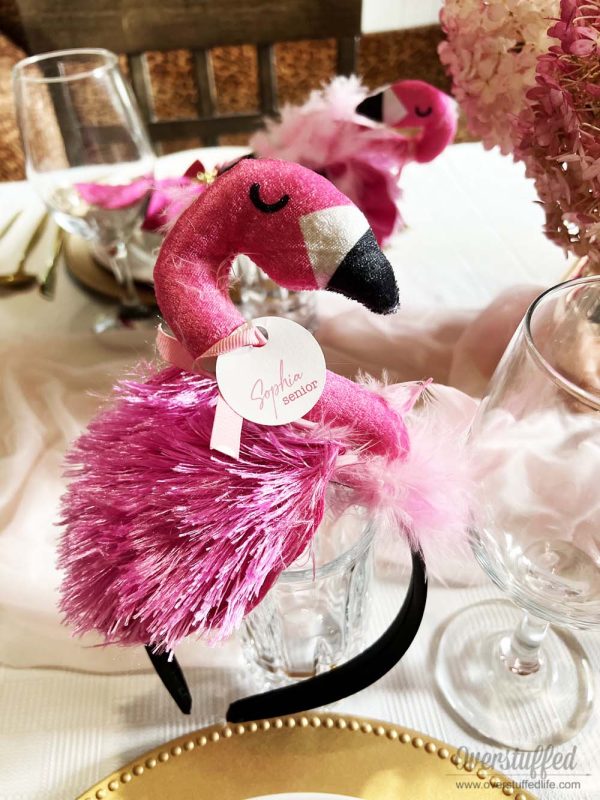 For this year's crowns, I found some cute flamingo headbands. Not exactly crowns, but we've done everything from pioneer bonnets to pineapple tops to olympic medals to actual princess tiaras. Any headwear counts, and these were a huge hit with the girls!
I printed out their names and year in school (two seniors and a junior this time!) and punched them out. I then tied them with a pink ribbon onto the flamingo neck. Aren't they adorable?
Be Like a Flamingo Theme Display
Every year, I frame the theme and display it in our dining room all year. I chose a vintage gold frame to display our flamingo theme this year, and I just love how it turned out.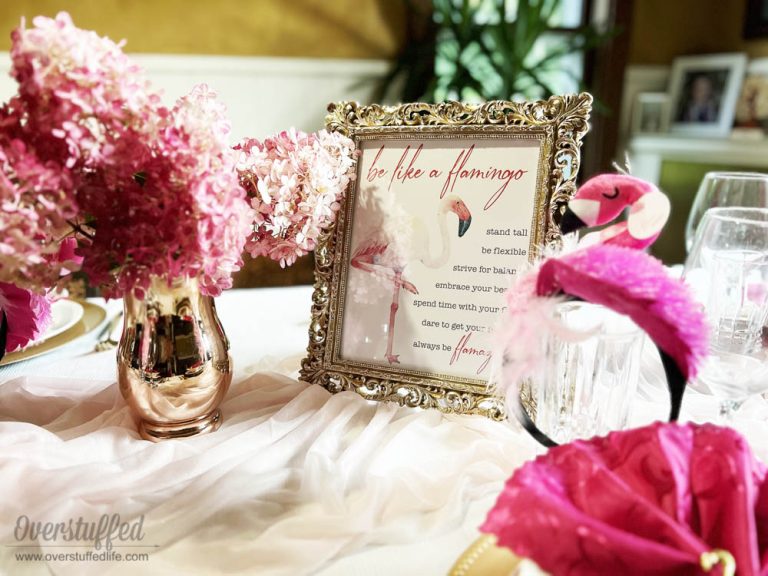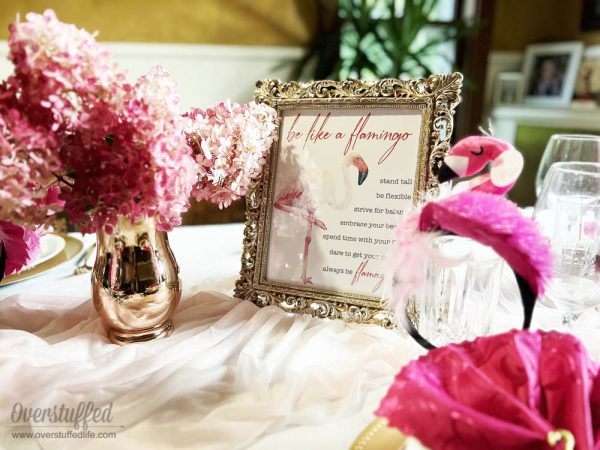 Another tradition is to take not-great photos of my girls at our feast. The lighting is never great in our dining room, and the time of day makes it even worse.
But here are my flamazing school girls, ready for another school adventure! I told them all to wear pink, fully knowing they would assume I had incorporated Barbie into this year's theme. They were grateful it was flamingos instead, as much they loved the Barbie movie!
My eldest daughter, beginning the sixth year of her undergraduate degree. She is excited to finally be done!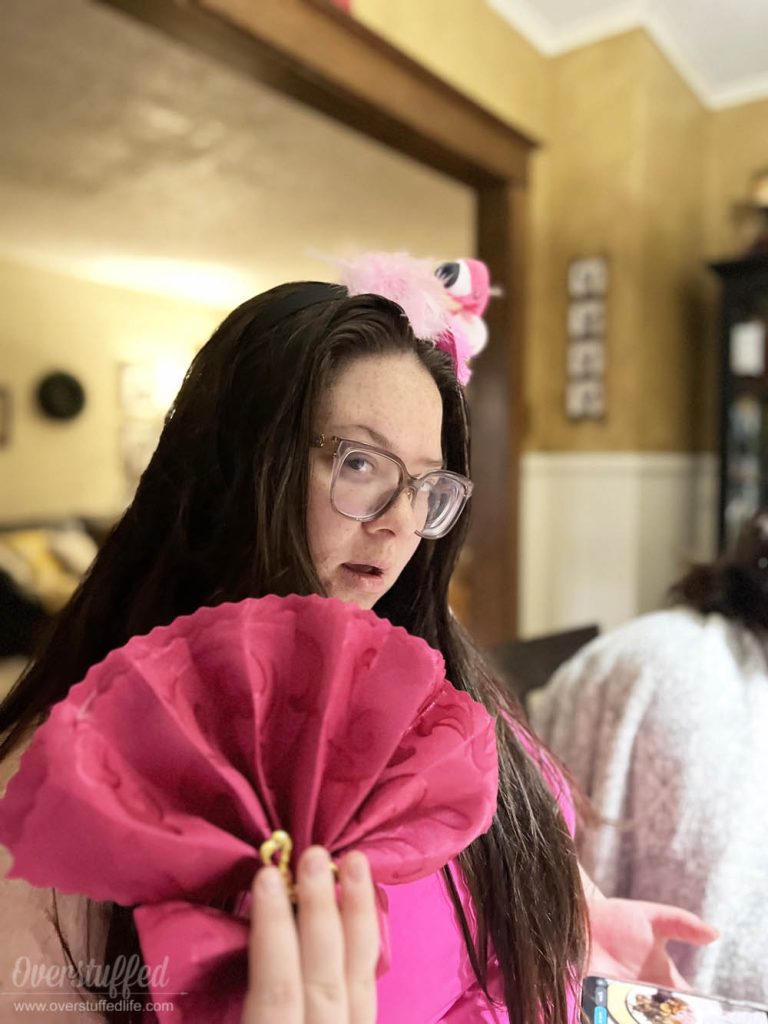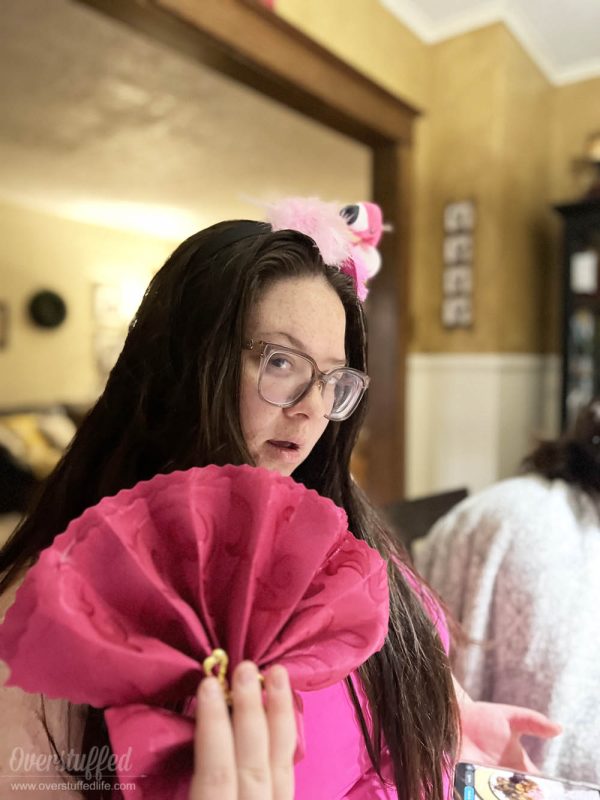 My middle daughter and her husband. She will be taking a small break from college as they have moved states for his job. She is hoping to transfer schools next semester and finish up her degree where she is.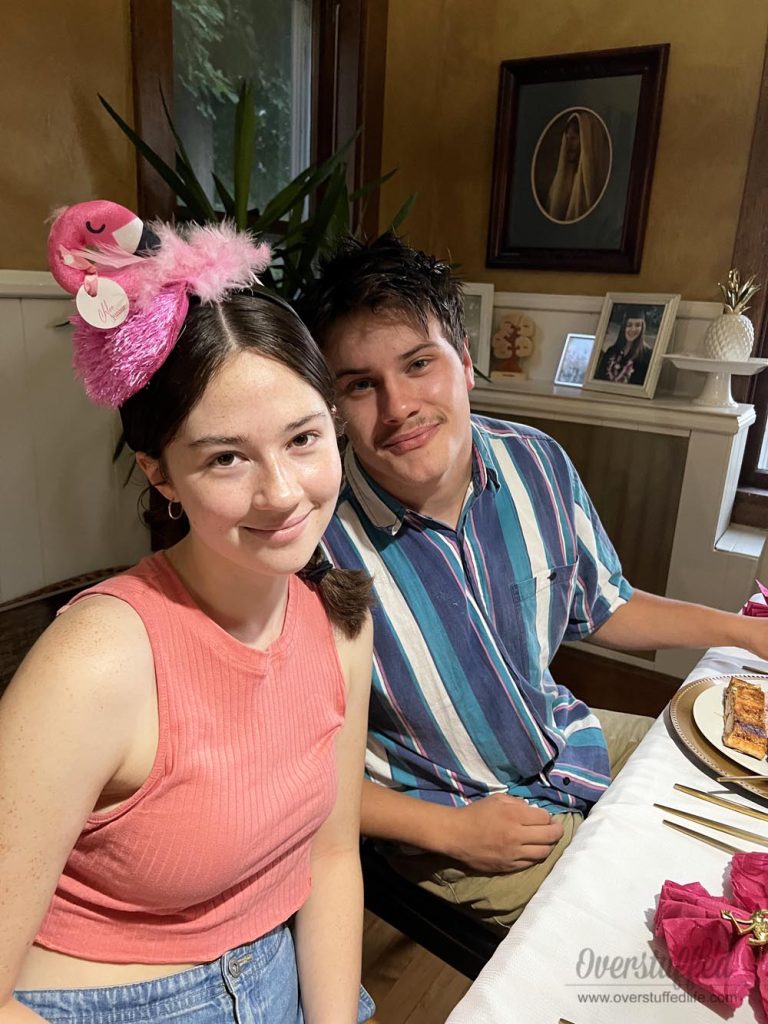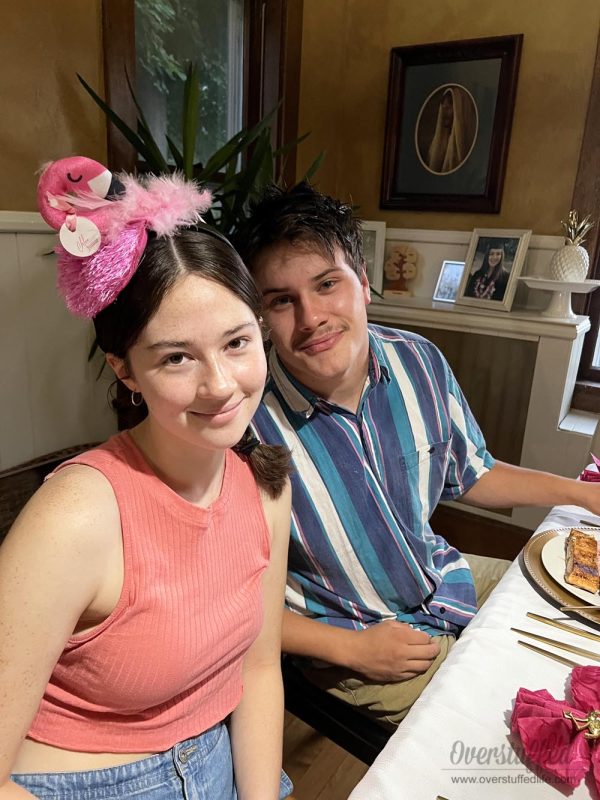 Finally, my youngest little spitfire. She's ended up taller than both of her sisters and me. And this will be her last year at home. I don't want to talk about it, but I'm super excited to see what this year brings her!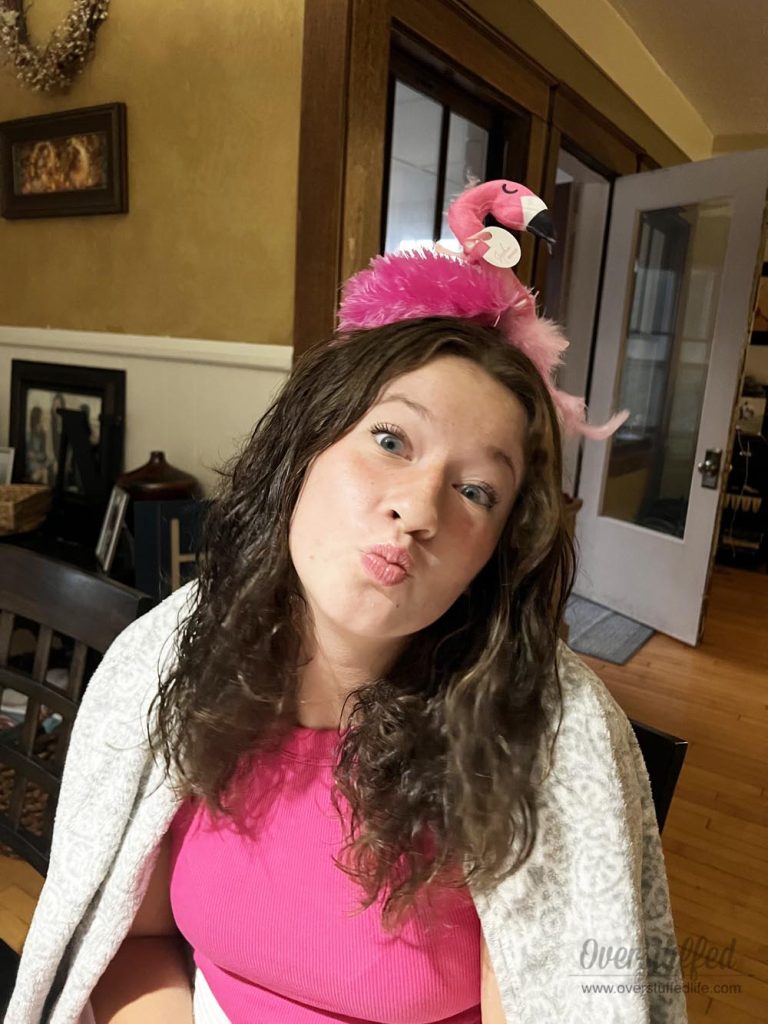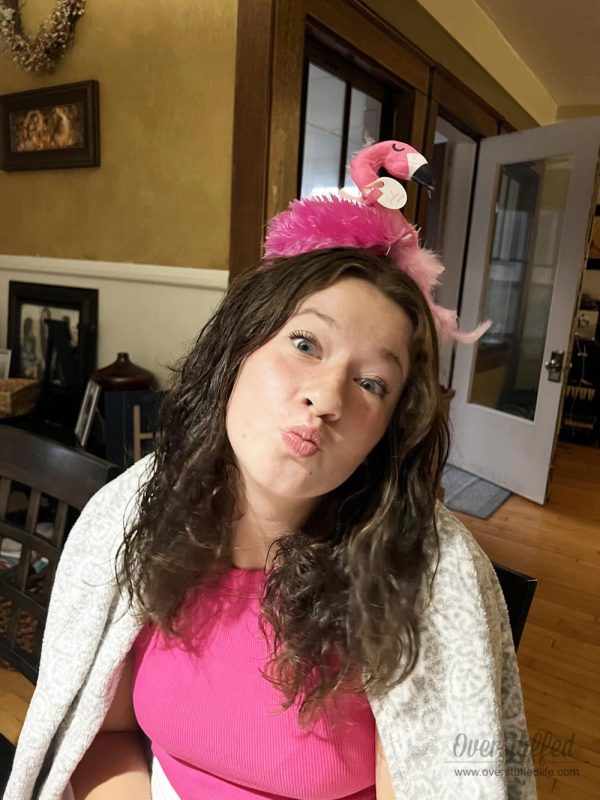 After dinner, we always finish up with our annual Father's Blessings, which is something we do as members of The Church of Jesus Christ of Latter-day Saints. I love the peace and the advice they are given from their dad each school year. It helps them through hardships in a way that nothing else can.
Find more of our feasts and family themes here: Back-to-School Feasts.